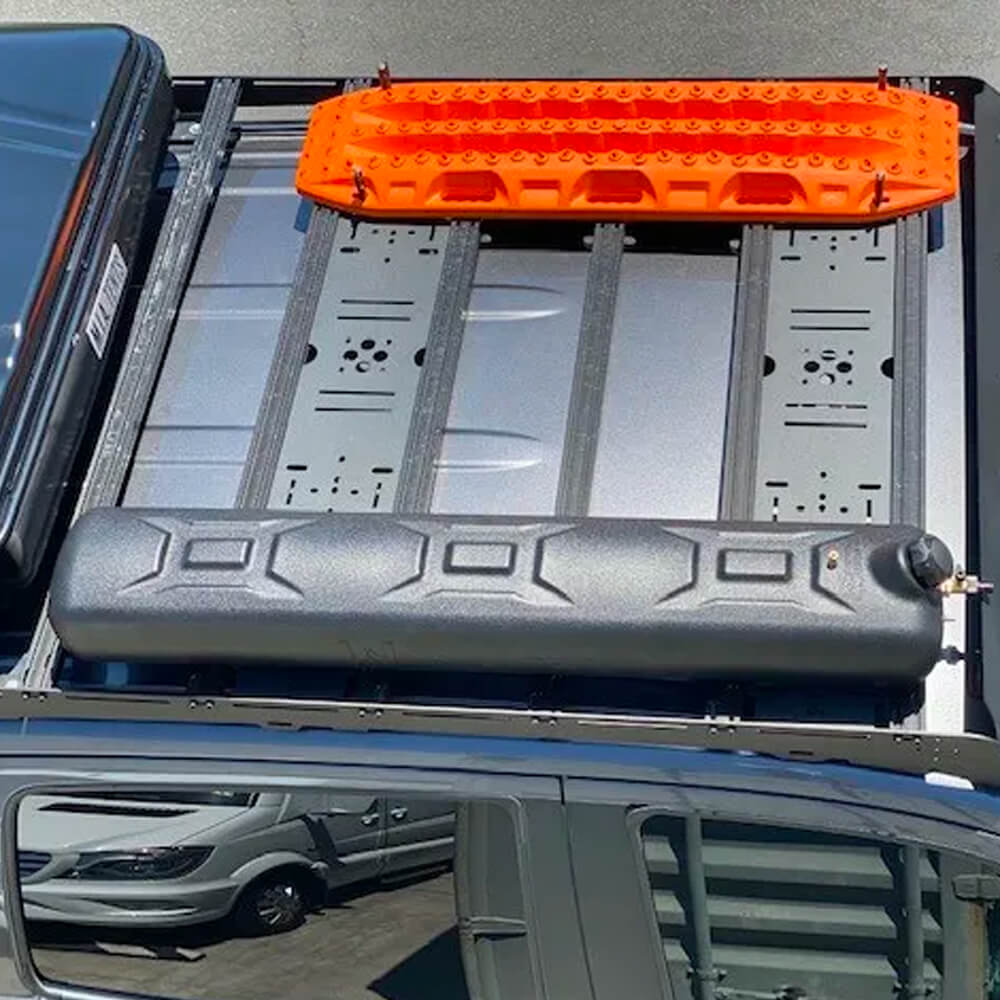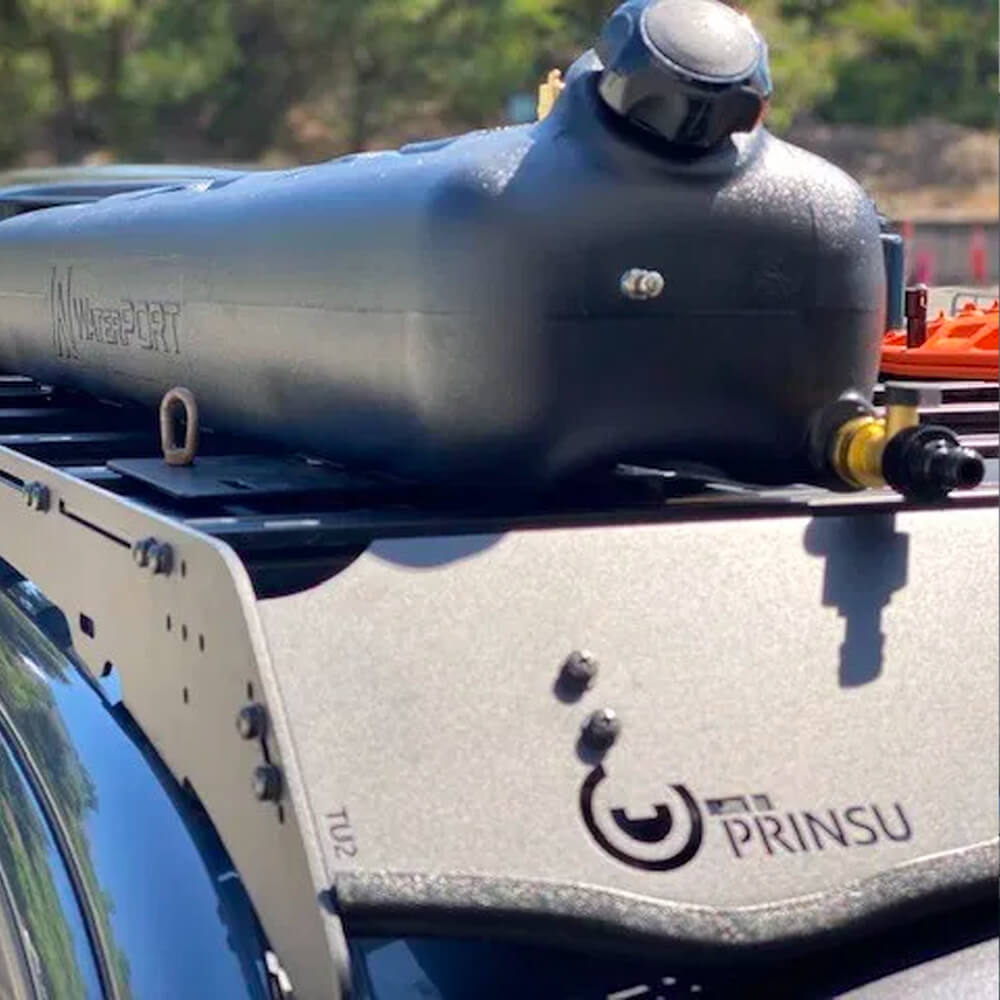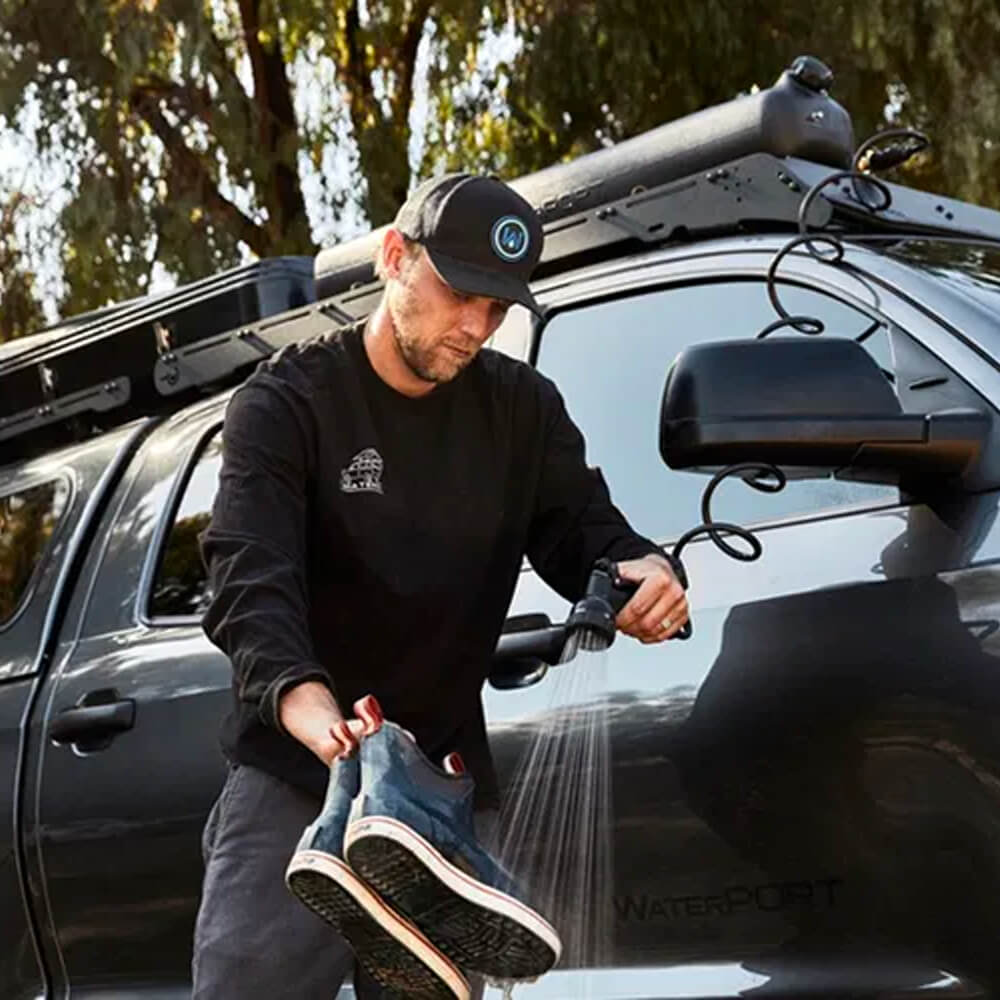 Weekender 8.0 Gallon Portable Water Tank
---
Our largest self-pressurizing tank delivers 8 gallons of water on even the longest excursions. The Weekender is ideal for on-the-go showers, cleaning and rinsing equipment, and any time you need pressurized water.
Take it camping, fishing, to the beach, off-roading, or anywhere your life meets the great outdoors! The Weekender comes with mounts for your roof rack and will work with platform or cross bar style racks (with additional hardware).
Both the tank and hose are made from food-grade plastics and are safe for drinking water. Pressurize this tank using the included fill valve and your standard garden hose, or use the schraeder valve with your pump or compressor.
INCLUDES
Weekender 8 gallon water tank
16′ coiled hose
High pressure spray nozzle
Fill valve Mounting plates and hardware (Included hardware works for Prinsu racks, and others as well. You may need to provide your own bolts to mount to your specific rack)
SPECS
50″ long x 9″ wide x 9″ high
26 lbs empty
91 lbs full
NOTE: Some product photos may show optional accessories such as the Pump Cap.
ALSO NOTE: The mounts for the Day Tank (Bar Mount, Hitch Mount, Bed Rail Mount, and Platform Rack Mount) will NOT work with the Weekender. Only the included mounts and the Cross Bar Linkage work with the Weekender.
Warranty Coverage Waterport, LLC warrants the Covered Product to be free of all defects in material and workmanship for 90 days from the date of original purchase. This warranty extends to the original buyer only. Within the period of this warranty, Waterport, LLC will repair or replace, free of charge, any part proving defective in material or workmanship. All warranty repairs and service must be performed by an authorized Waterport, LLC technician. All expenses related to replacing or repairing a defective part under this warranty shall be assumed by Waterport, LLC except for the following expenses, which shall be assumed by the buyer: The cost of transporting the product to the WaterPort Returns Department at the address listed below.