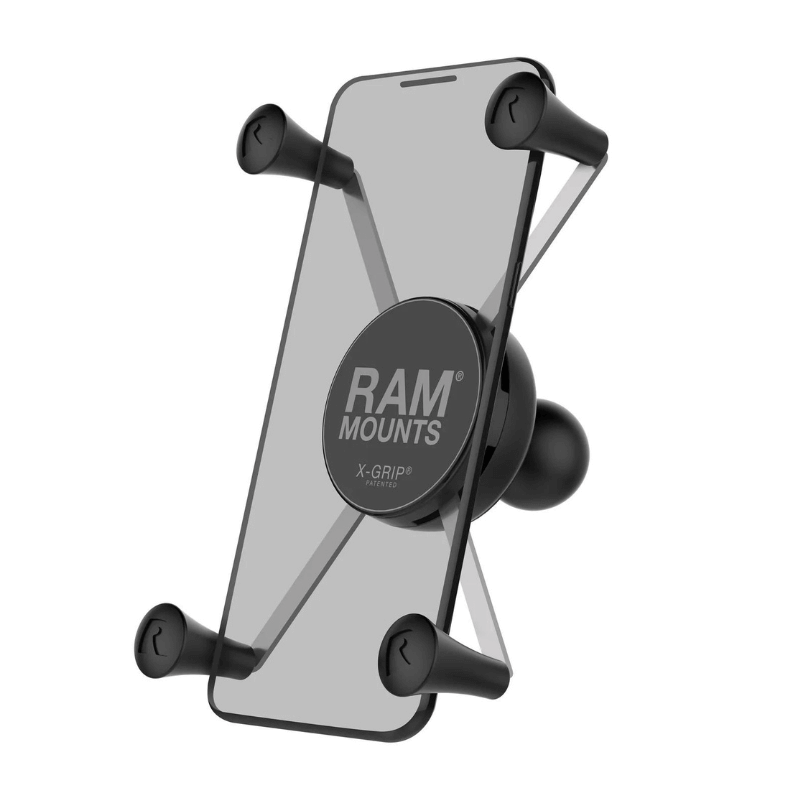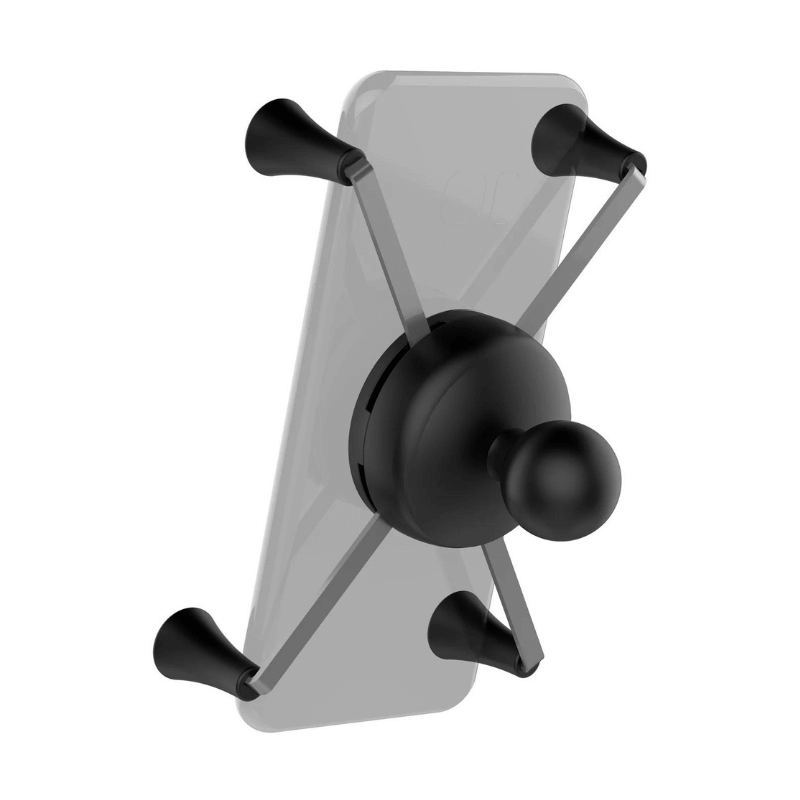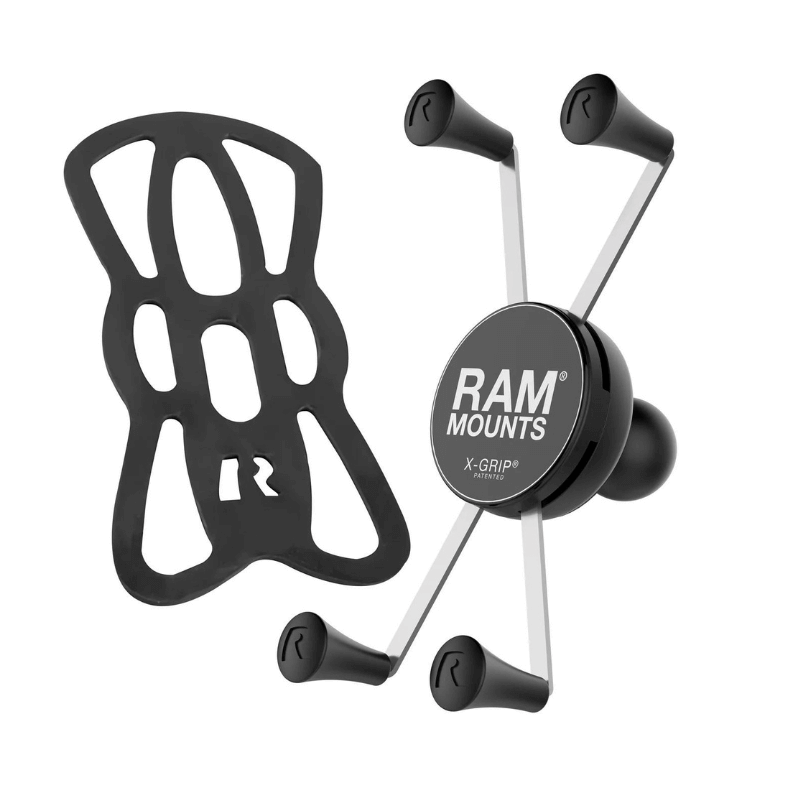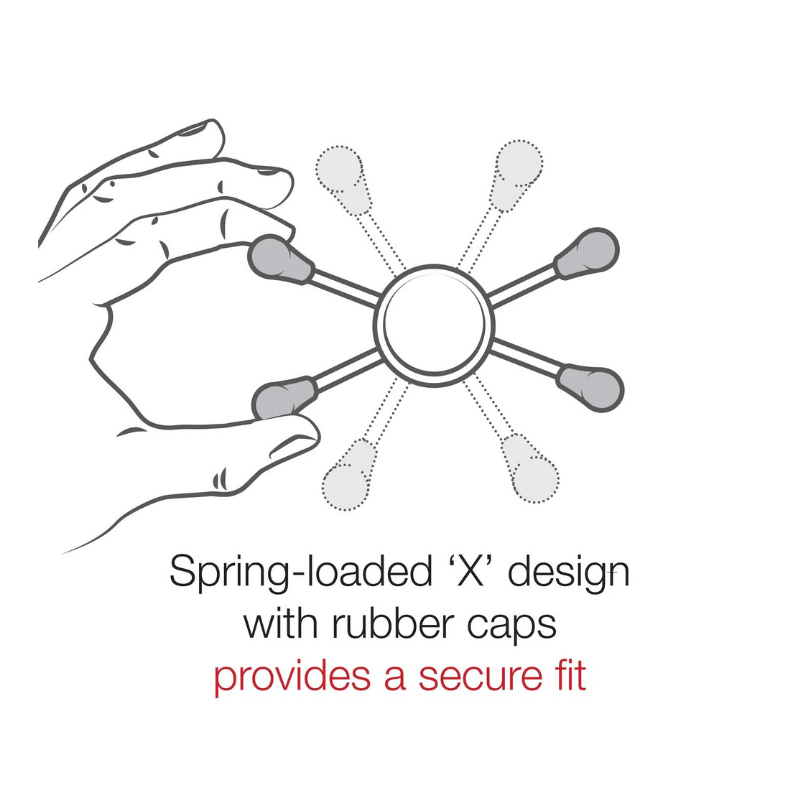 RAM® X-Grip® Large Phone Holder with Ball
Regular price
$ 38.99
Sale price
$ 34.99
Save $ 4.00
/
---
The popular spring-loaded RAM® X-Grip® phone holder features an 'X' design that expands and contracts to provide a perfect fit for your device – even if it's in a case – while also extending the life of your phone by providing shock and vibration damping.

For outdoor applications – like being used as a motorcycle phone mount – the RAM® X-Grip® includes a device tether that is recommended for added security and peace of mind.

This holder is compatible with any B size RAM® double socket arms and mounting bases. Ball and socket technology allows for near-infinite adjustability.

This large version of the RAM® X-Grip® fits phones ranging from 1.75" to 4.5" in width and keeps your device completely functional and accessible.

Made of powder-coated, marine-grade aluminum, stainless steel components, and high-strength composite for durability and reliability in the most demanding environments.

No matter what double socket arm and mounting base you pair the RAM® X-Grip® with, RAM® ball and socket technology allows for near-infinite adjustability to achieve the ideal viewing angle.
Exposure to vibrations, like those generated by high-powered motorcycle engines, might impact iPhone cameras. 
Hardware Included: (1) Optional Tether / (1) Glue Tube for Rubber Caps
Holder Dimensions: Width Range: 1.75" - 4.5" / Depth Range: .875" max
Ball Size: B Size (1")
Weight Capacity: Standard Use: 2 lbs / Heavy-Duty Use: 1 lb
Materials: High strength composite,

Stainless steel

Packaging Type: Poly Bag
Weight: 0.25 lb
Backed by a lifetime warranty
Apple compatible devices:
iPhone 6s Plus, iPhone 7 Plus, iPhone 8 Plus, iPhone Xs Max, iPhone 11 Pro Max, iPhone 12 Pro Max, iPhone 13 Pro Max, iPhone 14 Plus, iPhone 14 Pro Max.
Blackberry compatible devices:
Evolve X.
Blackview compatible devices:
BV9900, BV9900 Pro.
Cat compatible devices:
S42, S62, S62 Pro.
Garmin compatible devices:
Drive 50, Drive 51 LM, Drive 52, Drive 61 LM, DriveSmart 51 LMT-S, DriveSmart 61 LMT-S, DriveTrack 71, Nuvi 2788LM, RV 660LMT, RV 770 LMT-S.
Google compatible devices:
Pixel 2 XL, Pixel 3 XL, Pixel 3a XL.
HTC compatible devices:
Bolt, U Ultra.
Huawei compatible devices:
Mate 20 X.
Kyocera compatible devices:
DuraSport 5G.
LG compatible devices:
Fiesta 2 LTE, Fiesta LTE, G8S ThinQ, Harmony, Stylo 2 V, Stylo 3, Stylo 3 Plus Titan, Stylo 4, V20, V50 ThinQ, X charge, X venture.
Magellan compatible devices:
TR5, TR7.
Motorola compatible devices:
moto e4 plus, moto g4, moto z2, moto z2 play, moto z3.
Rand compatible devices:
McNally Road Explorer 5, McNally TND 540.
Razer compatible devices:
Phone 2.
Samsung compatible devices:
Galaxy A7, Galaxy A7 (2017), Galaxy A7 (2018), Galaxy A8, Galaxy A8 (2016), Galaxy A9 (2016), Galaxy A9 Pro (2016), Galaxy A9 (2018), Galaxy A70, Galaxy A80, Galaxy A90 5G, Galaxy C7, Galaxy C7 Pro, Galaxy C9 Pro, Galaxy E7, Galaxy Grand Neo Plus, Galaxy J7, Galaxy J7 Max, Galaxy J7 V, Galaxy Note 5, Galaxy Note 10 Plus, Galaxy Note20 Ultra, Galaxy On7, Galaxy S10 5G, Galaxy S8, Galaxy S8 Active, Galaxy S21 5G, Galaxy S21+ 5G, Galaxy S21 Ultra 5G, Galaxy S22 Ultra 5G.
Sonim compatible devices:
RS60.
Sony compatible devices:
Xperia C4, Xperia L2, Xperia XA Ultra, Xperia XA1 Ultra, Xperia XA2 Ultra, Xperia XZ Premium.