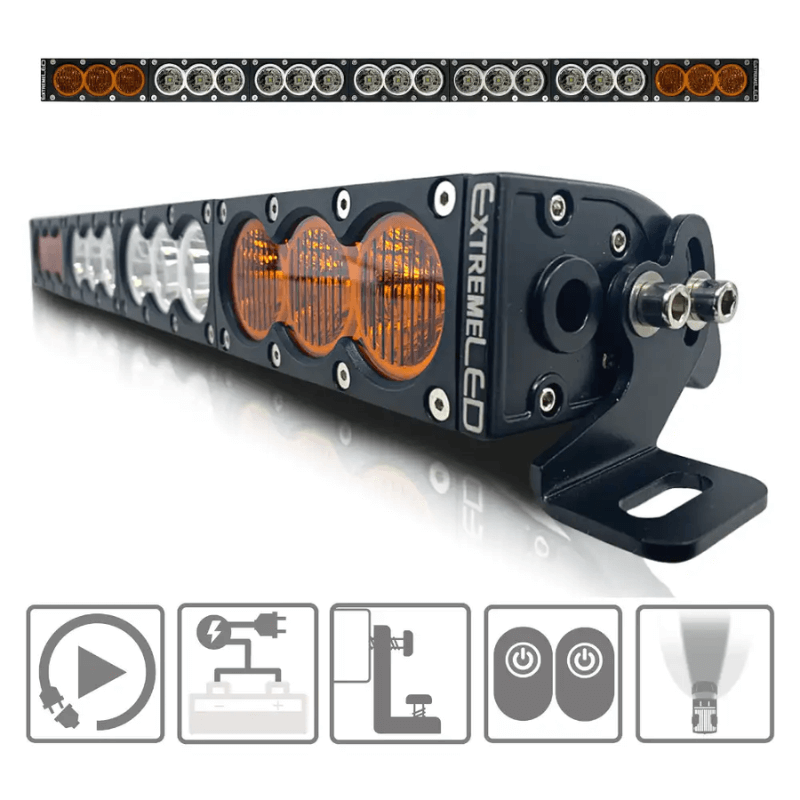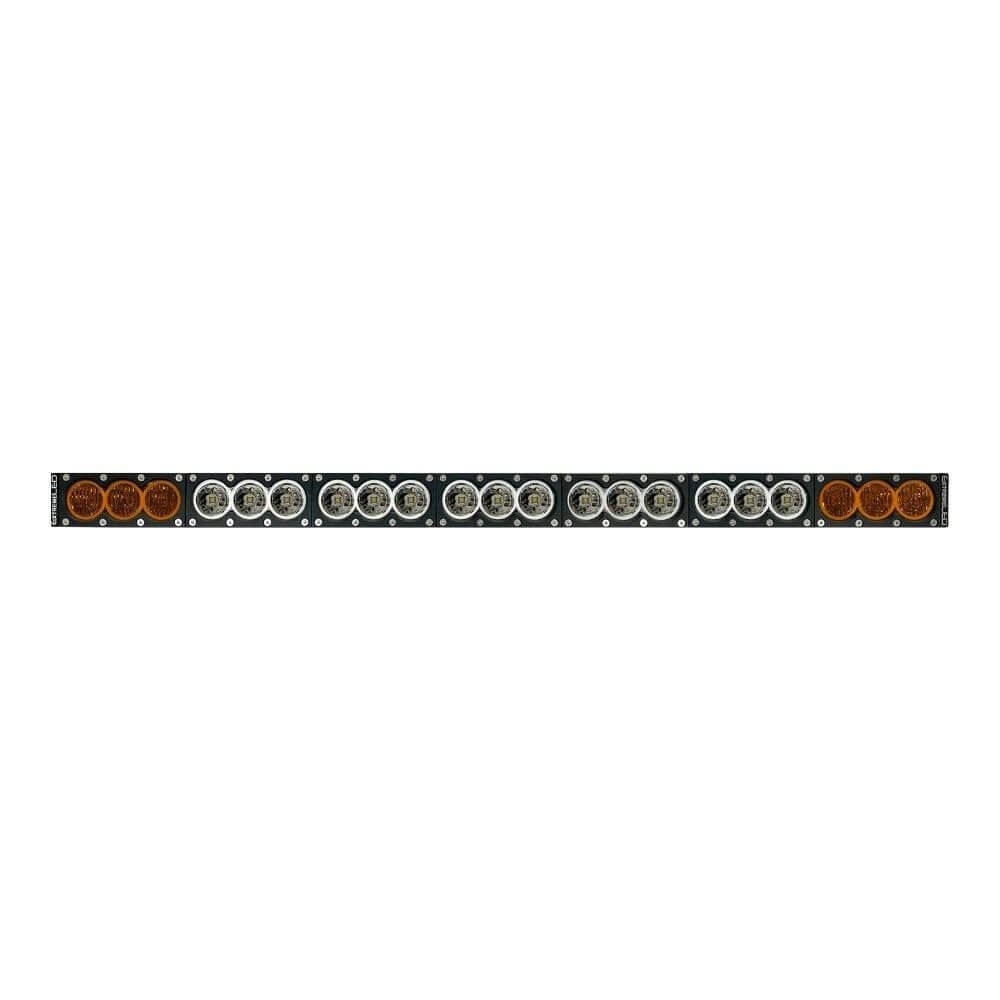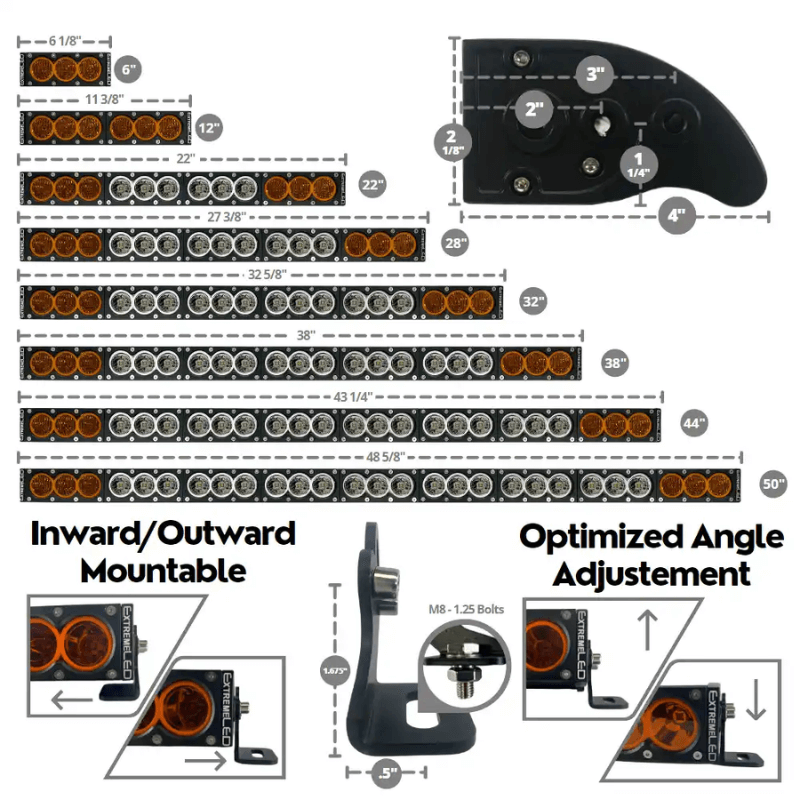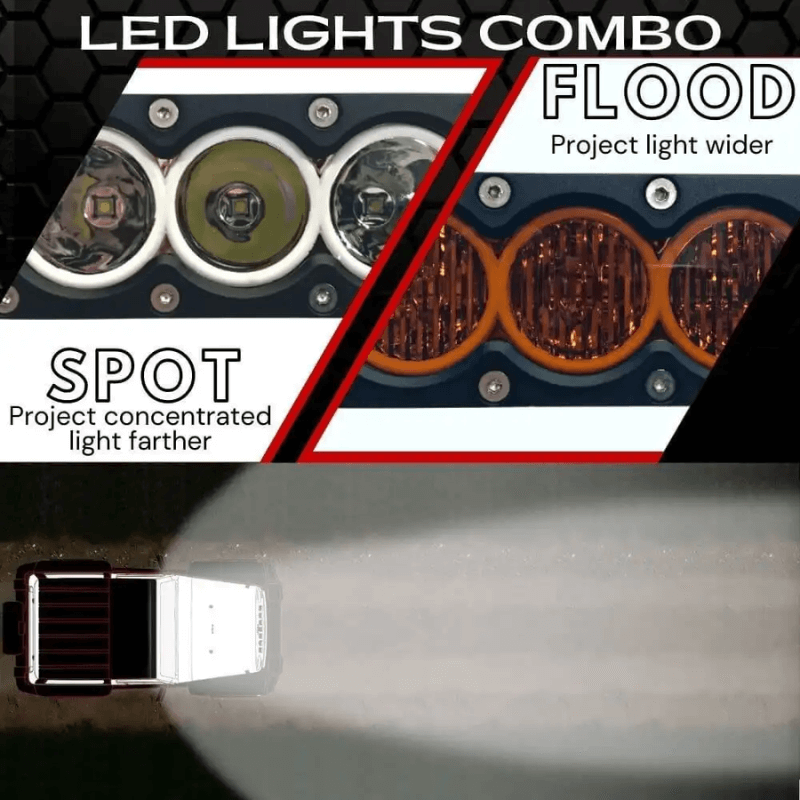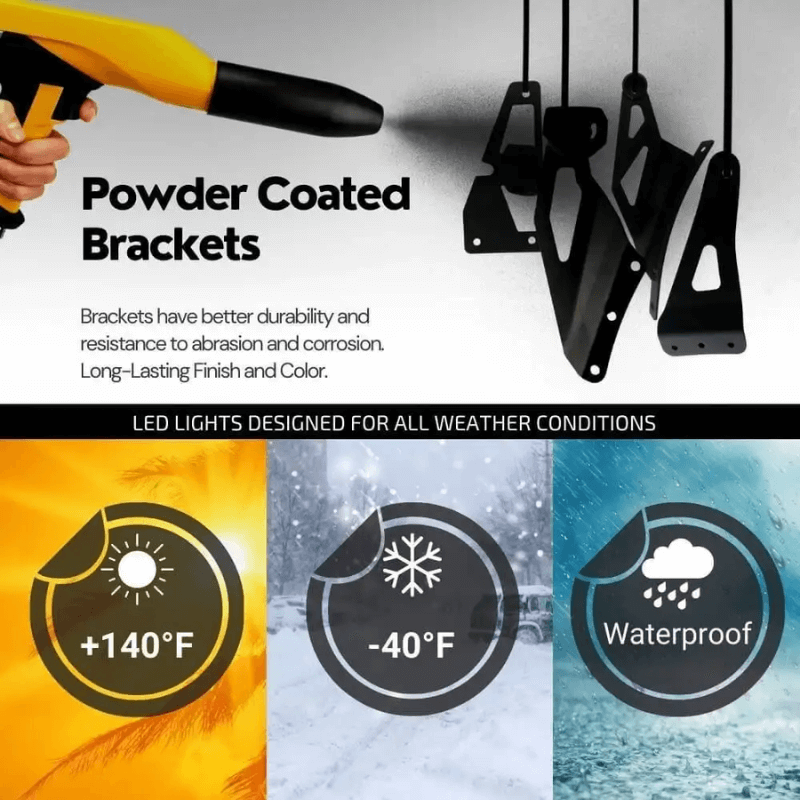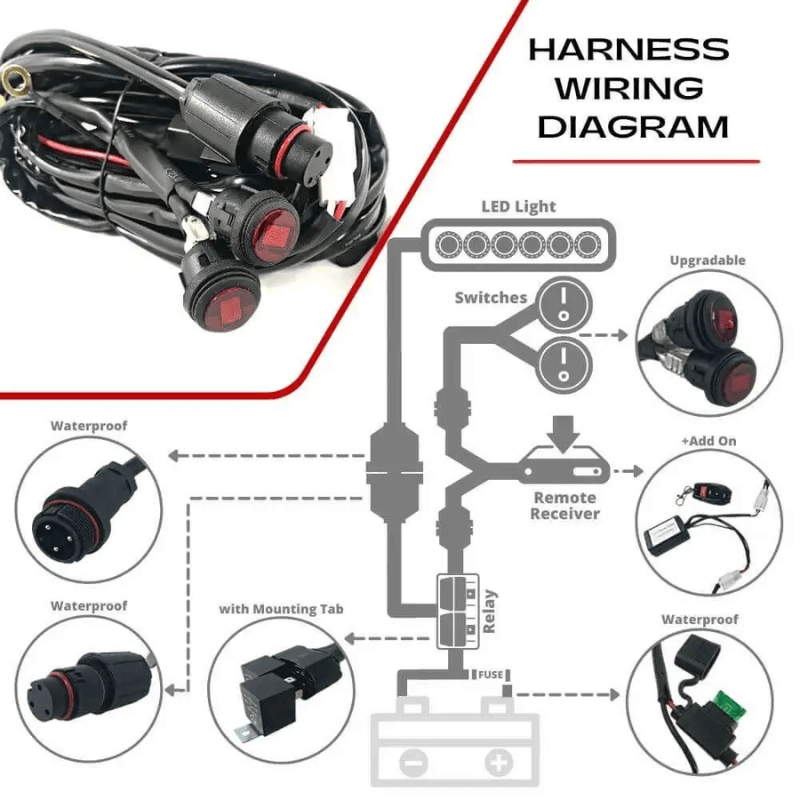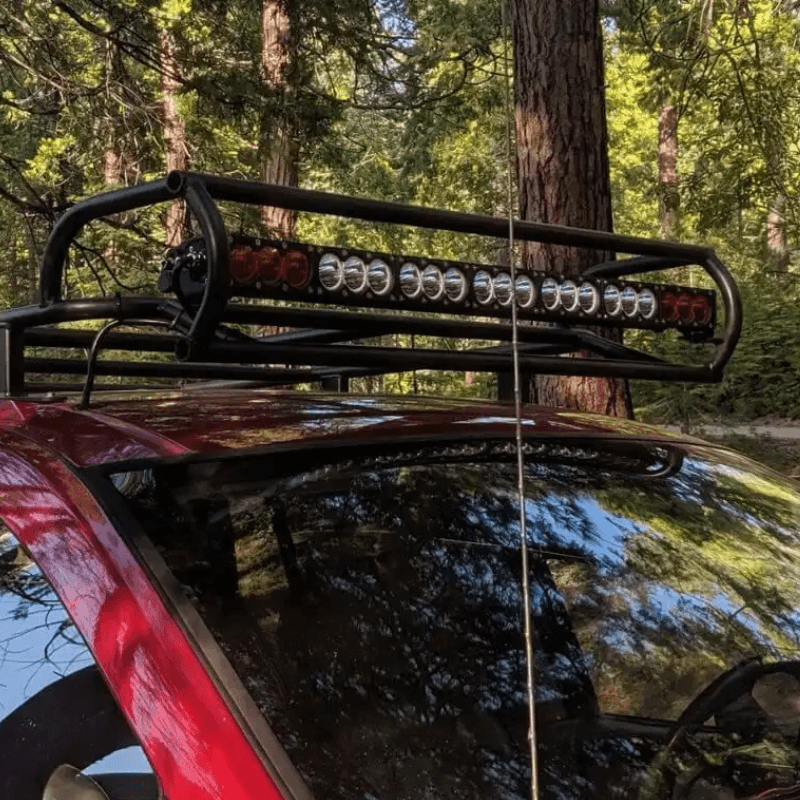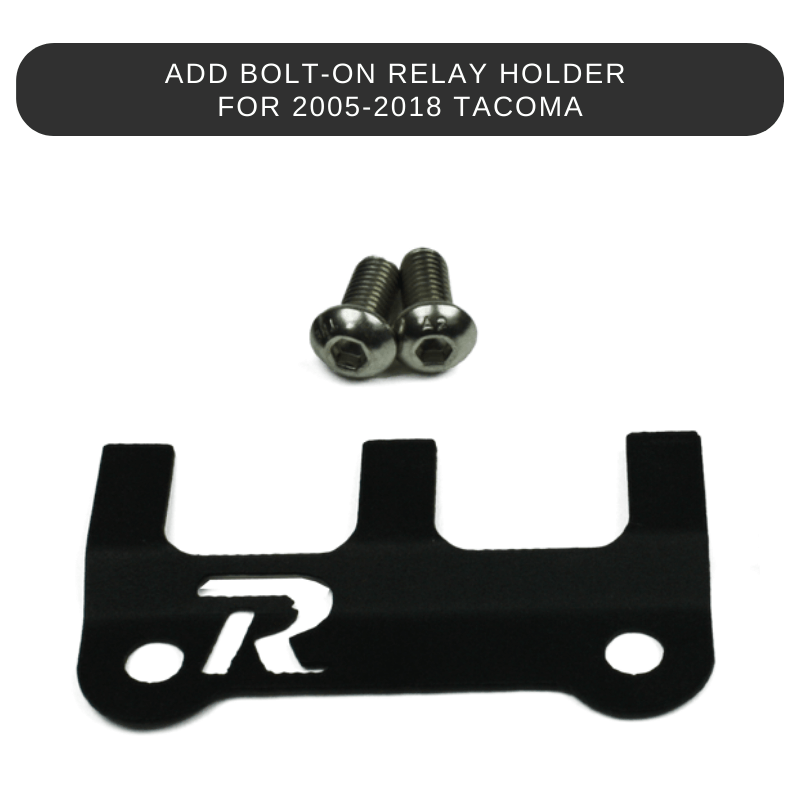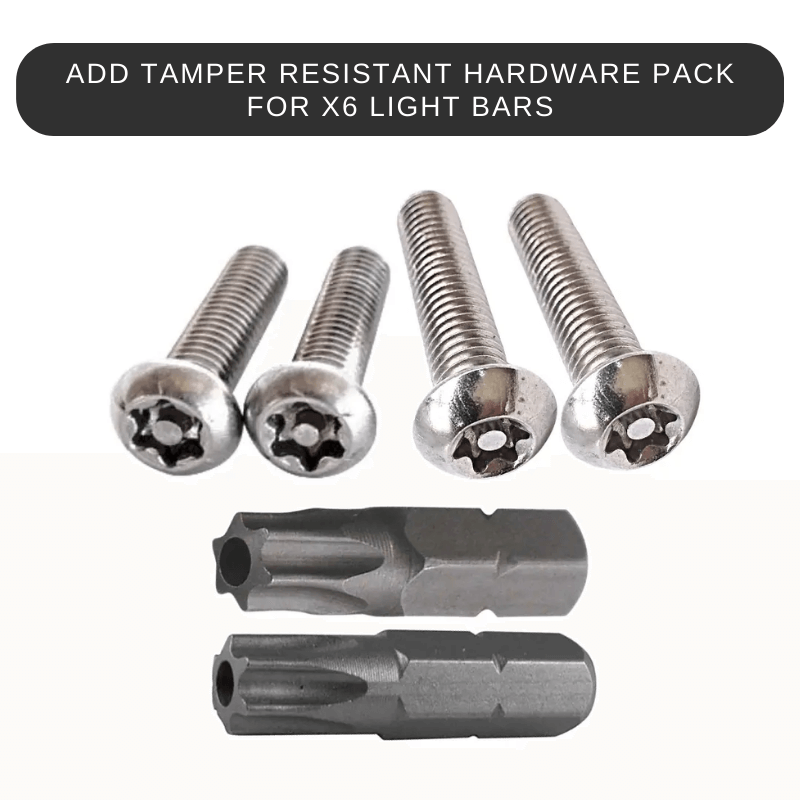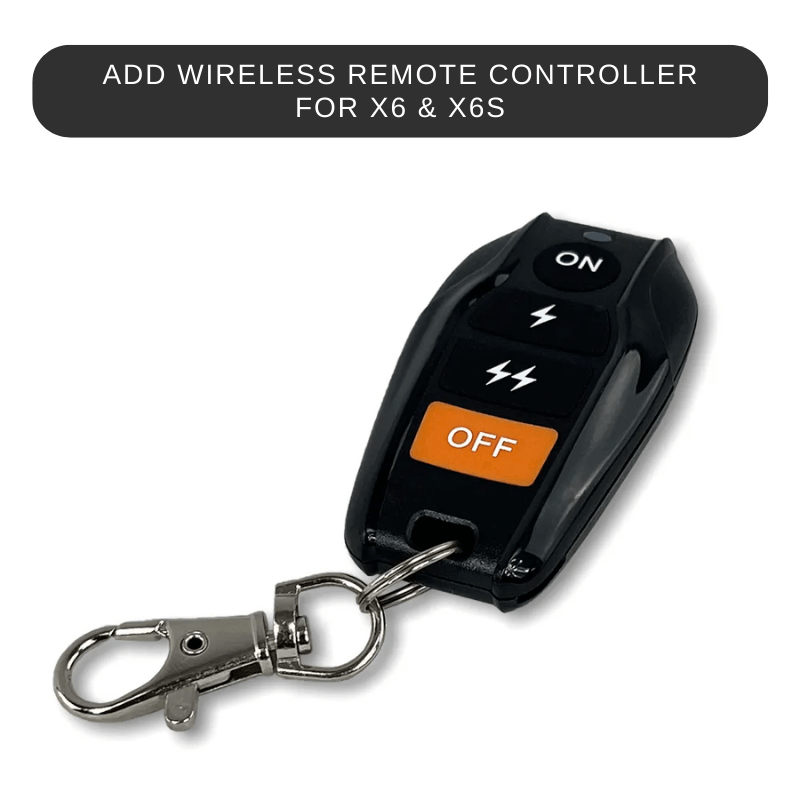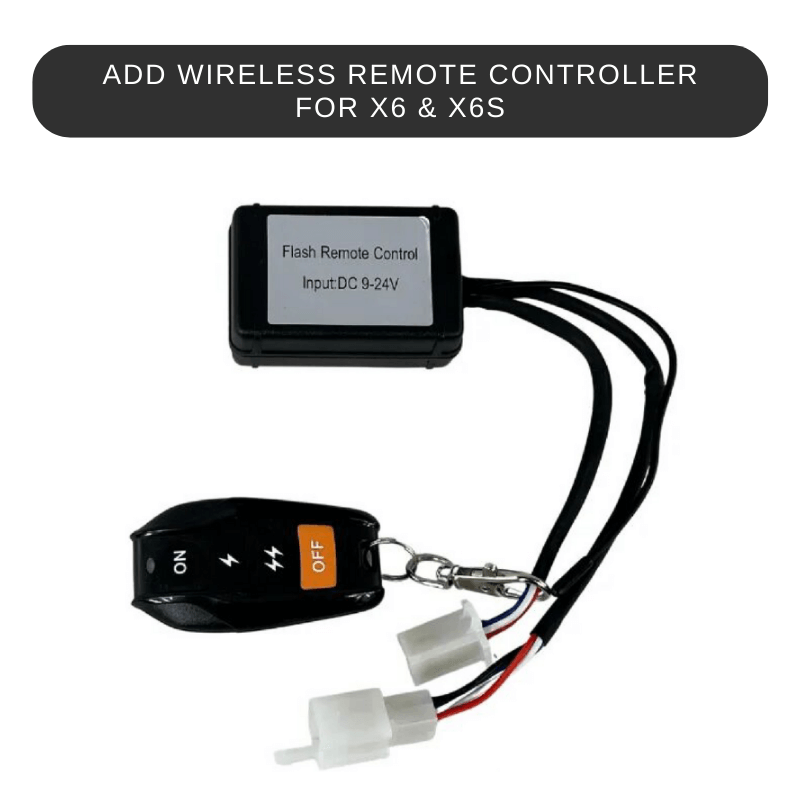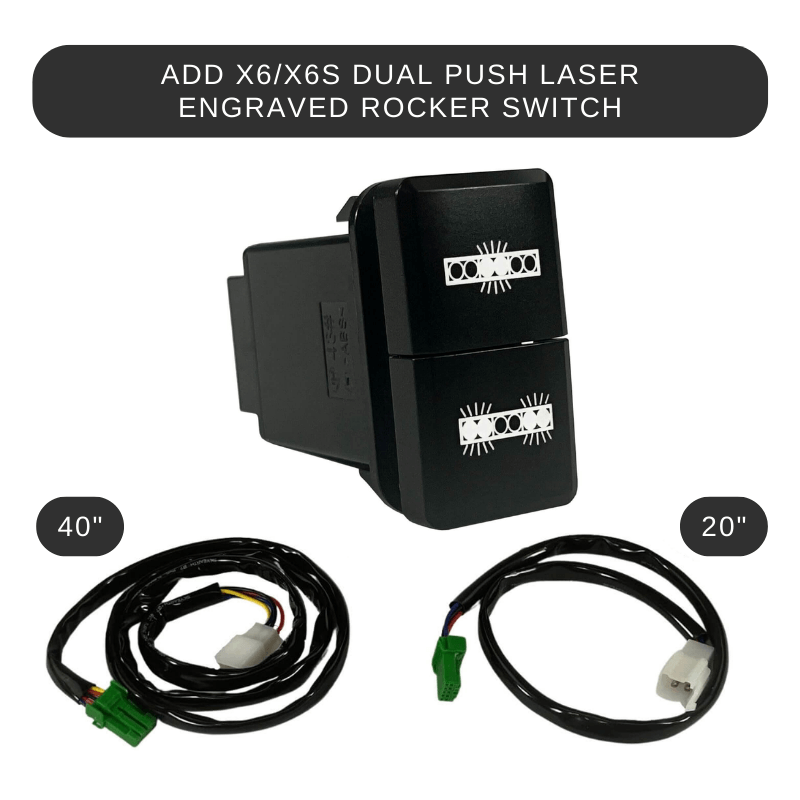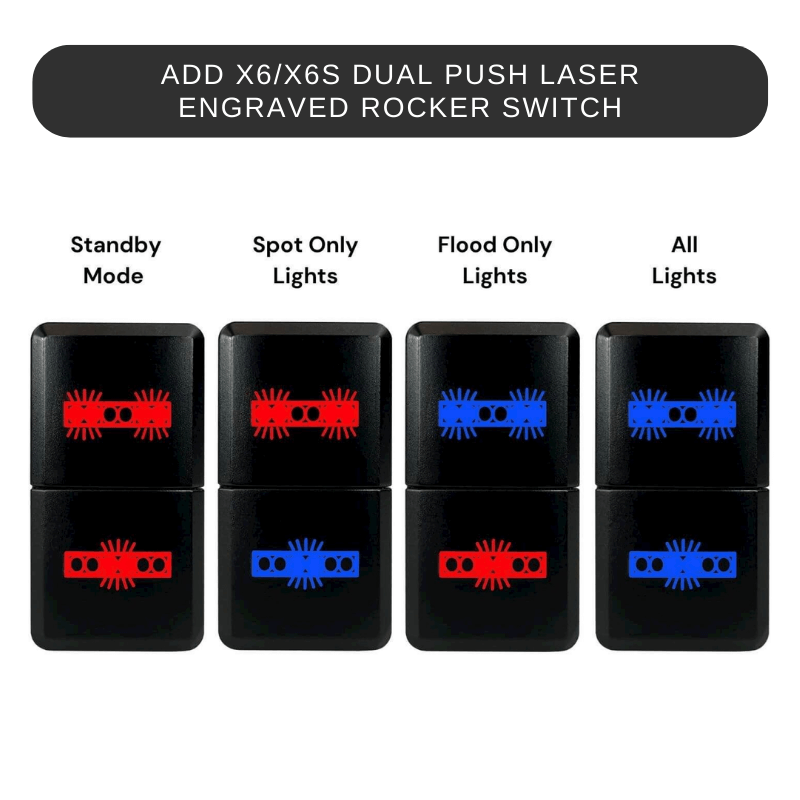 38" X6 Amber/White 210w Combo Beam Led Light Bar & Harness Kit
---
38" X6 Amber/White 210w Combo Beam Led Light Bar & Harness Kit
With an amber white LED light bar, Extreme LED provides you with options that you can't find anywhere else. Fulfill your need for a crisp amber white led light bar right now! The X6 10-watt series single LED Light bar offers you the choice between the white light and amber lights. You can also use the two together! Use just the white lights for extra lighting at night, the amber for extra contrast (great for fog and snow), or combine the white and amber for maximum light and visibility!
A few things to expect when purchasing an amber white led light bar regarding height:
✔ It is 2-1/4" tall, and the light from mounting point to mounting point is 38" wide.
✔ The mounting feet holes vary - the inward mounting feet of the single LED light bar is 36-3/4" and the outward mounting feet are 40-3/4".
The applications for this amber white LED light bar is endless. Whether you're out in the country going mudding with your buddies at night or going for an early morning hunting excursion. Extreme LED has the right equipment shine light to your path, as well as LED accessories.

We understand you need a LED light to guide the way without costing a ton. We keep you in mind when it comes to pricing. We don't want you to have to break the bank just for quality amber white lights.

With high-quality aluminum construction, IP68 rating to keep dust and water out, and rugged powder coating, our lights will take you wherever your journey may take you and whatever abuse you throw at it.
Includes:
✔ Combo Beam Light Bar
✔ Universal mounting brackets (scroll through product images to see)
✔ Wiring Harness for independent white and amber light control (has two switches, one for the white lights and one for the amber lights; scroll through product images to see)
ADDITIONALS
➤ 
You can add a X6/X6s Dual Push Laser Engraved Rocker Switch

Pick between a 20" or 40" wire in your Dual Push Rocker Switch.
These switches were made specifically for our Extreme Series X6/X6S Amber and White Light Bars. These control the clear spot and amber flood lights separately and are labeled accordingly on the switch.

These switches are easy to replace, simply remove the old switch at the connector and plug in the new one! These come with either 50cm wire or 100cm wire to help you get the best fit for your build.
Comes with a switch and wiring with a plug and play connector.
➤ 

You can add a

 

Universal Wireless Remote Controller with strobe for X6 & X6S

Control your lights with a keyfob rather than a switch (or have the option for both)

This multi function wireless remote system allows you to control your LED light(s) from the wireless key fob. Not only can you turn your lights on and off, but you can turn your lights into a strobe light, with different strobe flash patterns. This remote has a receiver that will fit into our DT or ATP harnesses.

The X6/X6S remote has 4 buttons (on/off and two strobe buttons). You can select the clear, amber or both and have 7 different strobe options for each of the combinations. Click the On button 3 times to turn on both the amber and white. Just plug it in to your existing harness and you are ready to go!

Functions
✔ On/off model
✔ 7-9 flash patterns
✔ SOS emergency mode


Instructions
✔ Key A: Turn on/off.
✔ Key B: Go to next flash pattern (Key A needs to be "ON").
✔ Key C: Go to previous flash pattern (Key A needs to be "ON").
✔ Key D: SOS Exclusive mode. Flashes 3 short pulses followed by 3 long pulses: the international HELP/SOS pattern.

Please note: The wireless remote controls strobing patterns and on/off functions. The colors are controlled via the app.
➤ 

You can add a

2005-2018 Tacoma Bolt-On Relay Holder




Relay holders are used to help organize your relays under the hood.


These relay holders allow you to organize up to three relays* (relay(s) are not included) neatly on this simple bracket, allowing you keep your engine bay organized.


We include all the hardware you need, making the install a breeze.


Fits 2005-2018 Toyota Tacoma 

Please note: This item will not work with manual transmission Tacomas.
➤ 
You can add a Tamper Resistant Hardware Pack for X6 Light Bars
Protect your investment with anti-theft hardware.
Help secure your new LED Light Bar with this upgraded hardware pack featuring stainless steel, tamper proof hardware for any of our X6 LED Light Bars.
This tamper-resistant kit comes with everything you need to upgrade the security and help protect the investment you make in a new LED Light bar.
Kit includes:
✔ 2 - Stainless steel tamper proof screws to mount the mounting legs to the light
✔ 2 - Stainless steel tamper proof screws to mount the mounting legs to your mounting surface
✔ 1 - T-40 Tamper proof Torx Bit
✔ 1 - T-45 Tamper proof Torx Bit
38" X6 Amber/White 210w Combo Beam Led Light Bar & Harness Kit Features:
✔ 25,200 lumens
✔ 21 - 10w CREE LEDs - 210w Total
✔ Versatile Amber and White Lighting with Combo Beam Pattern
✔ Amber and White Lights Controlled Independently
✔ Amber are Flood Beam and White Lights are Spot Beam
✔ Waterproof
38" X6 Amber/White 210w Combo Beam Led Light Bar & Harness Kit Specs:
✔ Beam Configuration: Combo (Both Flood And Spot)
✔ Width (In): 38
✔ Beam Color: Amber & White
✔ Harness Included: Yes
✔ Flood Reflectors: 6
✔ Spot Reflectors: 15
✔ Lumens: 25,200
✔ Led Brand: Cree
✔ Number Of Leds: 21
✔ Power Of Each Led (Watts): 10
✔ Total Power Input (Watts): 210
✔ Input Voltage Range: 9 - 32 Volts
✔ Amp Draw (@ 12v): 17.5
✔ Electronics: Integrated-Epoxy Encapsulated
✔ Waterproof: Ip68 Rated - Continuously Submersible
✔ Life Expectancy Hours: 30,000
✔ Operating Temperature: -40°f To +140°f
✔ Color Temperature: 6000k
✔ Housing Material: Die-Cast Aluminum
✔ Housing Color: Black
✔ Lens Material: Polycarbonate (Lexan)
✔ Mounting Brackets: Die-Cast Aluminum
✔ Mounting Hardware: Stainless Steel
✔ Inner Locking Connector: 3 Prong Connector
✔ Case Quantity: 4
✔ Warranty: Lifetime Warranty
We are so confident in the quality of our products that we provide a lifetime warranty to protect against manufacturing defects. Continue reading for details on our limited lifetime warranty.
Our products that say "Lifetime Warranty" in the product description are covered from material or manufacturer defects, impacting the function of the light, for the life of the original purchaser. The products that carry this warranty are typically all of our lights and some other accessories (but not all). This warranty does NOT cover normal wear and tear, cosmetic damages, disassembly, unauthorized repair or attempt, or damage due to abusive use. Disassembly includes unscrewing parts of the light bar, the light bars are treated for protection from water and by disassembling you may damage the bar.
If for any reason you need to disassemble the bar, contact us first to confirm it will not damage anything. Simply contact us and we will arrange to either fix or replace the light, if available, or we will credit you toward your next purchase if the lights are no longer carried.

✔ Return Policy: 30-day Return Guarantee
If for any reason you are not completely satisfied in the first 30 days of receiving any of our LED lights, simply return the product and as soon as we receive it, we'll process a refund for the product price excluding shipping to your delivery address.
Some of our products are offered with free shipping, so please note that if you return one of these products, our actual outbound shipping will be deducted from your return refund.
This is a period for you to evaluate the lights by simply plugging them in and testing that they will meet your needs, they should not be installed. To qualify for this return, the lights must meet the following conditions:
✔ Must be in original packaging and properly packaged (do not write on the box)
✔ Must include all parts and hardware received with your original shipment
✔ Must be unused and have no signs of usage
If items are returned without original packaging, hardware, wiring, or any other necessary parts for operation or installation, a minimum 15% restocking fee will be applied as well as any costs of damaged or missing parts. Products that have been installed or show visible use do not qualify for a return.