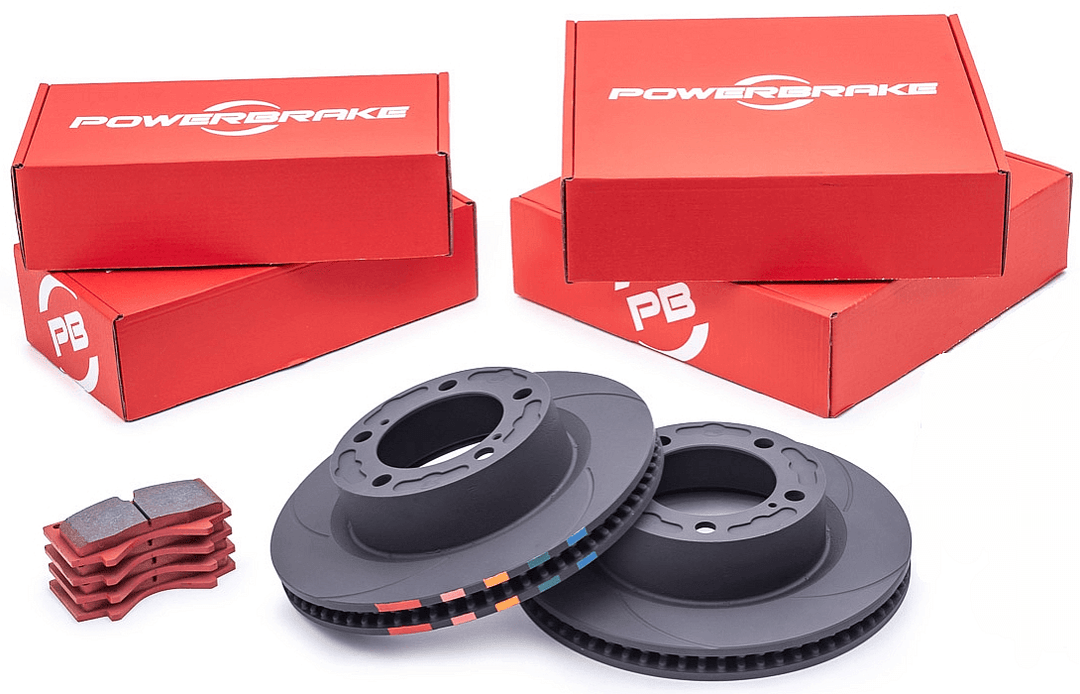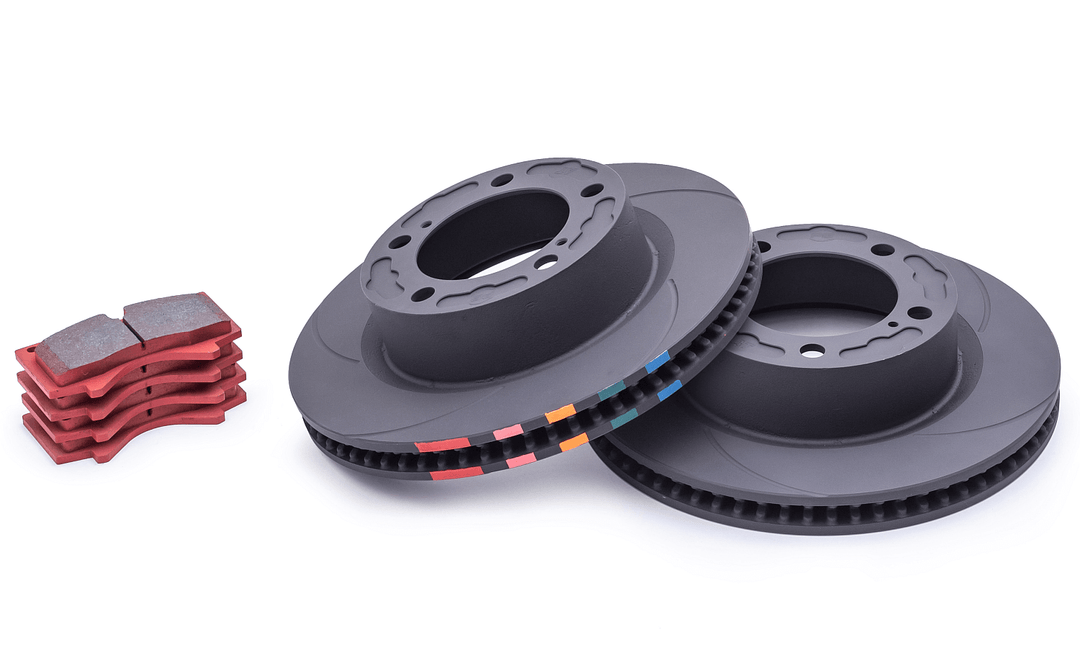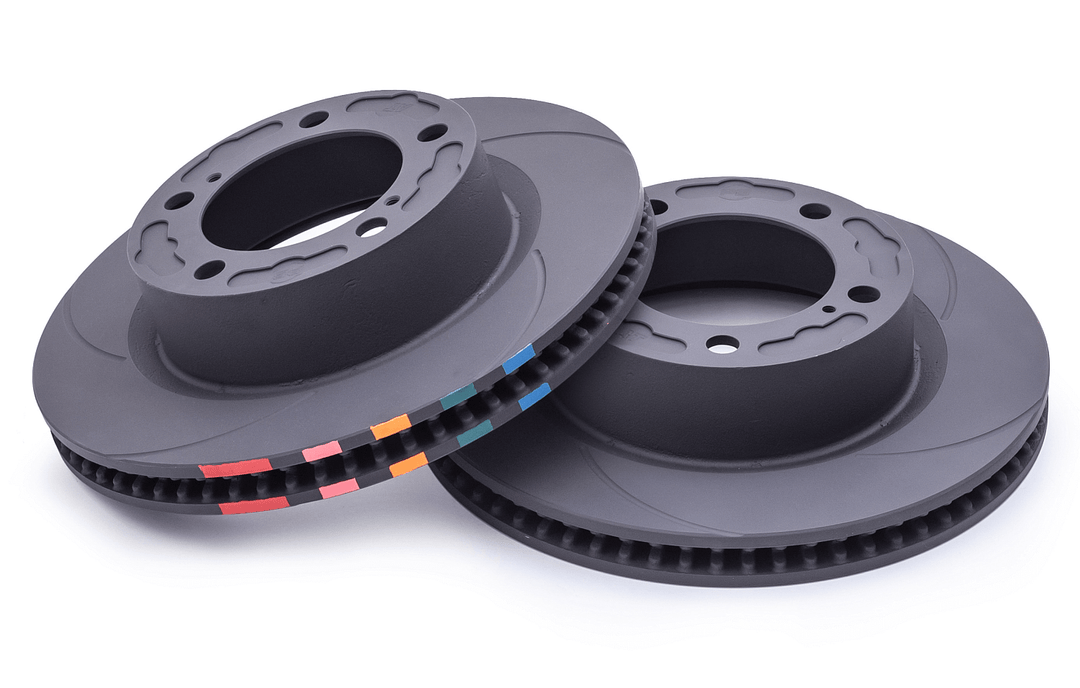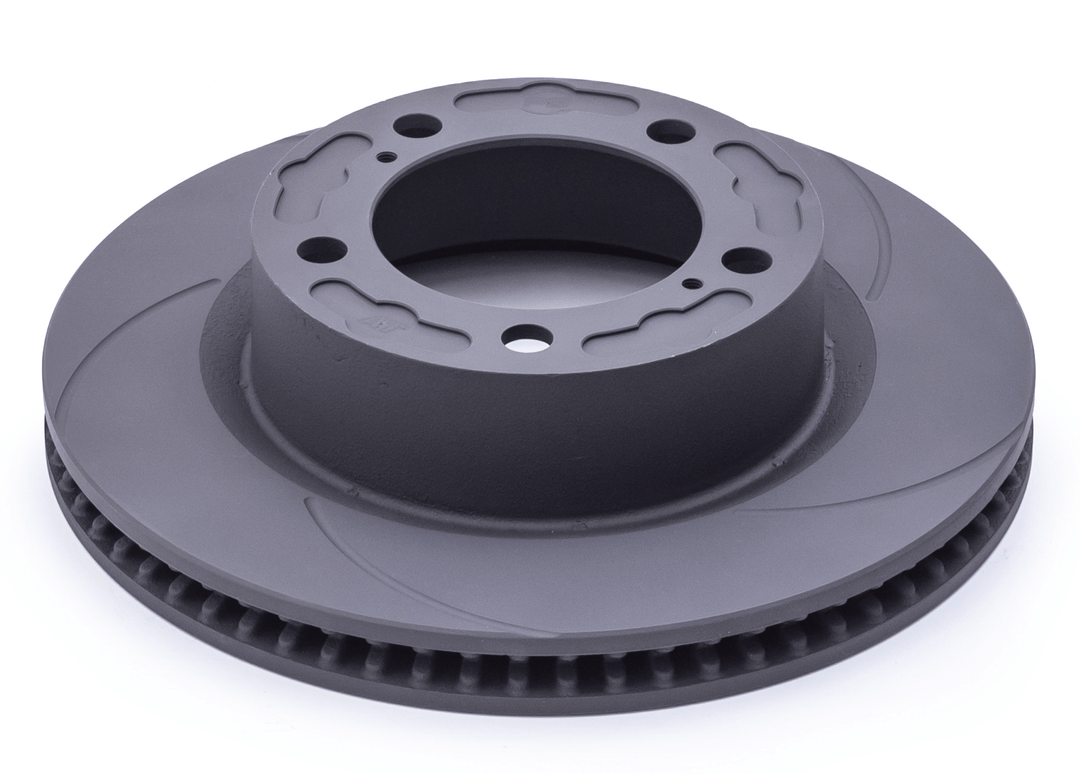 2005-2023 Toyota Tacoma D-Line Front Rotor and Pad Kit
---
D-Line Rotor & Pad Kit
➜ Performance Replacement rotors & pads kit for your 4WD, same size as original and are direct replacement
➜ A pair of Powerbrake AT-Series high performance slotted rotors
➜ Matched set of brake pads – PB05 compound manufactured in Japan
➜ High carbon cast iron rotors, manufactured in South Africa
➜ Rotors have Max Temperature Recording (MTR) System
Powerbrake D-Line high performance rotor and pad kits are engineered from the ground up to improve brake performance and reduce brake fade on your 4WD truck.
The PB05 brake pad compound is in our opinion the very best brake pad compound on the world market for 4WD trucks and overland vehicles. This ultra-high-performance friction material offers a large step up in performance and fade resistance over the OEM and other aftermarket pad manufacturers. Stopping power, pedal feel and modulation are simply unmatched. PB05 brake pads will also give good mileage and have been formulated & tested to work with our D-Line rotors.
While our D-Line rotor and pad kits are our first-level brake upgrade option for 4WD vehicles, they will deliver considerable performance advantages at a relatively affordable price point.
What are the benefits at a glance?
➜ Reduced stopping distances in both dry and wet conditions.
➜ Reduced brake fade and improved brake consistency.
➜ Improved initial brake response (bite).
➜ Improved brake modulation particularly during emergency stops.
➜ Improved resistance to rotor distortion (warping) and cracking at high temperature
Included:
✔ 2 x Standard diameter AT-Series high performance slotted rotors
✔ An axle set of matched high-performance brake pads.
✔ Fits as per a standard rotor and pad change, using the vehicle's standard OEM calipers.
Fitment: 2005-2023 Toyota Tacoma
FEATURES
Features of Powerbrake High-Performance Rotors and Pads
➜ Rotors are cast from a proprietary high carbon cast-iron alloy.
➜ Rotors are machined to tolerances up to three times tighter than the industry norm.
➜ All Powerbrake rotors feature our MTR (Max Temperature Recording) system.
➜ Proprietary black rotor surface coating ensures quicker bed-in and max brake performance.
➜ Spiral slots on rotor fiction surface clear friction gasses, debris and water.
➜ Matched high friction PB05 brake pads take the guesswork out of pad selection
Why choose Powerbrake?
We are totally focused on designing, manufacturing and testing performance brake systems for 4WD and overland trucks. We are a part of the community and are passionate about adventuring in our trucks, making them safer and more confident to drive. Our D-Line high performance rotor and pad kits were designed by the same team members that designed our renowned R-Line off-road race systems and they are manufactured on the same equipment, in the same factory. All design features (such as slot patterns, rotor coatings and max temp recording systems), as well as the proprietary cast-iron alloys from which the rotors are cast, have been directly developed through our extensive involvement at the highest levels of international off-road racing.
SPECS
Rotor Size
Metric (OD x Thickness x Height): 319x28x67.5 mm
Standard (OD x Thickness x Height): 12.55x1.10x2.65 in
Mounting Hole Diameter
Metric: 108 mm
Standard: 4.25 in
Studs: 6