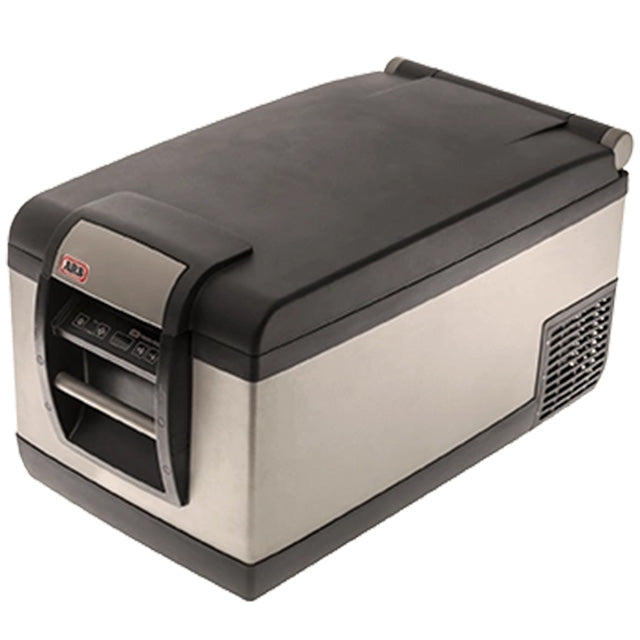 ARB 63 Qt. Classic Series II Fridge Freezer
Regular price
$ 1,382.00
/
---
No off-road trip is complete without a place to keep the food fresh and, more importantly, the beers cold. With continually advancing technology, ARB has given it's current Classic Fridge Freezer an update. Introducing the Classic Fridge Freezer Series II that incorporates a new modern color scheme along with added features.

Tried and tested, the ARB Fridge Freezer has been a staple in the off-roading community for years thanks to its proven performance. ARB has given these reliable essentials a revamp in styling and characteristics–introducing the ARB Classic Fridge Freezer Series II.

Featuring a new color scheme inspired by the recently released-ARB Jack, the gunmetal grey fridge body contrasts perfectly with the black highlights.

Whether you're in the driver's seat, or relaxing in your camp chair, keeping an eye on the temperature of your fridge freezer has never been easier. A new Bluetooth transmitter has been developed that allows full-control and monitoring via Android, Apple devices, and even ARB LINX. Now, you can adjust or monitor the fridge freezer's temperature and receive an alert when your friend leaves the lid open. The transmitter is included at no additional cost with the purchase of a new Series II Fridge Freezer.

The Classic Fridge Freezer Series II has a dimmable, backlit touchpad for easy night time operation and 12V power input readout for simple voltage monitoring on the display. A transmitter allows remote display and control via a new app, which is available for download onto smart devices or ARB's LINX unit

The ARB Fridge Freezer app allows full control of the Series II Fridge via a mobile device or LINX. The user is able to turn the fridge on/off and manually adjust (or set via presets) the target temperature. The app will display the target temperature, the power input voltage, the fridge compressor status, and alert the user if the lid is left open.

The application allows the fridge to be switched between Celsius or Fahrenheit, offers battery protection notifications (high, medium, or low), and allows adjustment of the fridge display's brightness (high or low) in the settings. The user can also allocate preset temperatures to assign specific temperatures to a particular item in the fridge. For example, you would want your drink temperature to be different than an ice cream temperature.

To complement the fridge, a new transit bag has been designed with a modern and stylish look, capturing the dark monochrome tones of the fridge, and includes a bonus branded bottle opener.

For owners of current ARB Fridges (post-2014 models), the new transmitter and app can be used to display the temperature, input voltage, and compressor status.

This update has been implemented across the entire Classic Fridge Freezer Range– 37QT, 50QT, 63QT and 82QT. Important to note, the size of the fridge hasn't changed.

All the existing features and benefits such as removable lid, reversible basket, mounting points etc were carried over from Series I Fride Freezers. All exterior and internal dimensions remain the same as the Series I Fridge Freezers.
Details:
63 Quart
Dimensions: H 16.9 x W 17.7 x D 33.3 inch
100% CFC free
Low amp draw
Ice free operation
Powder coated zinc steel cabinet shell
Recessed powdered coated steel fixed carry handles
Two piece injection molded lid, UV stable
Convenient on/off power indicator
Integrated battery protection system (12/24V DC)
Solar panel and generator compatible
Deep storage capacity for large upright bottles
Built-in 12, 24 and 120-volt facility, making it ideal for use as a second fridge
Fully removable lid and basket for easy access and cleaning
Ventilation grills allow operation even in the most confined cargo areas
A user-friendly, right-angled plug-in point from cord to fridge
Operates at extreme angles (up to 30ø) without affecting operation or reliability
Lightweight injection-molded base
Convenient on/off power indicator
Three-year warranty from date of purchase
Weight:
54lbs

Cooling Capacity:
50°F to 0°F
Current Draw:
0.89 amps/hour*
*Average power consumption tested at 37.4°F
cabinet temperature, 78.8°F-87.8°F ambient
temperature range, test duration of 66 hours
and supply voltage of 12V DC
Transmitting module:
Bluetooth connectivity allows 2-way communication on SII fridges and 1-way display on SI fridges.