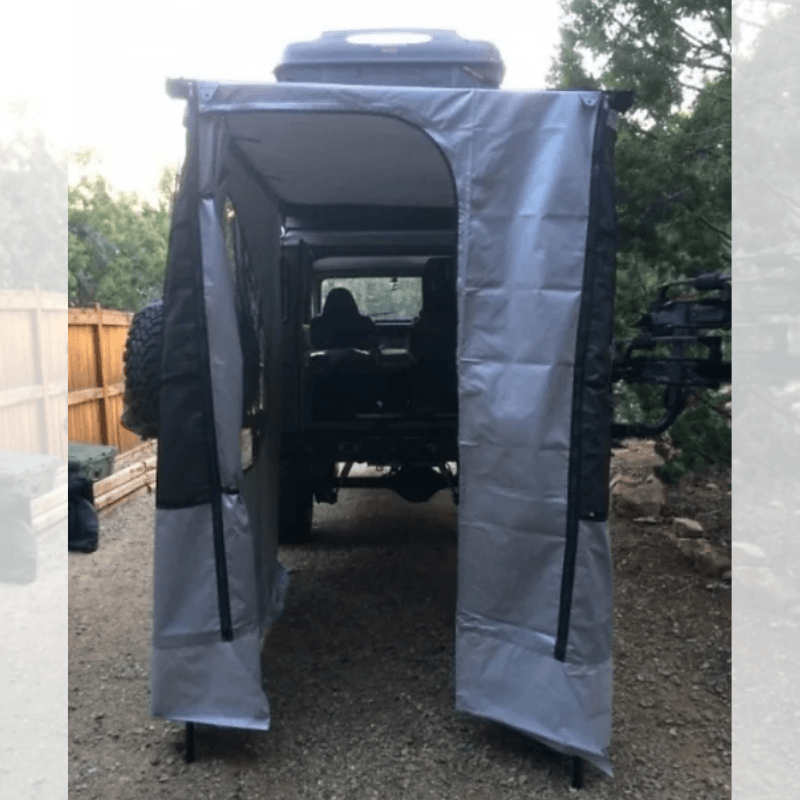 Walls for Back Awning
---
Walls for Back Awning
Anti-UV, 100% waterproof and breathable.
Thanks to the James Baroud Walls for Back Awnings you will have a safe and comfortable shelter that will allow you to camp with peace of mind in all seasons.

The awning enclosures are made from the same material as the tents. They are 100% waterproof and UV resistant.

The enclosure consists of three panels and attach directly to the awning, along with a zipper connection that allows them to be attached to each other.

The enclosure includes two large windows and a door providing easy access and plenty of ventilation. The awning enclosure creates a completely sheltered room, adding privacy and convenience to your camping experience.

These walls allow you to arrange your living space according to any type of climate, and to keep direct access to the vehicle from inside the awning.
✔ The right and left walls slide into the horizontal telescopic tubes of the blind, the front face by zipper at the end of the blind.
✔ The blind is joined to the walls by clips on the tubes.
✔ The walls include 2 canvas windows and mosquito net on the walls.
✔ Quick assembly and disassembly.
✔ PVC storage bag.
✔ Possibility to roll up the 3 panels, or to put them horizontally.
Size: 3 Panles Dimensions: 210 x 240 x 130 - Walls for James Baroud Back Awning 52"x95"
Please Note: Awning sold separately