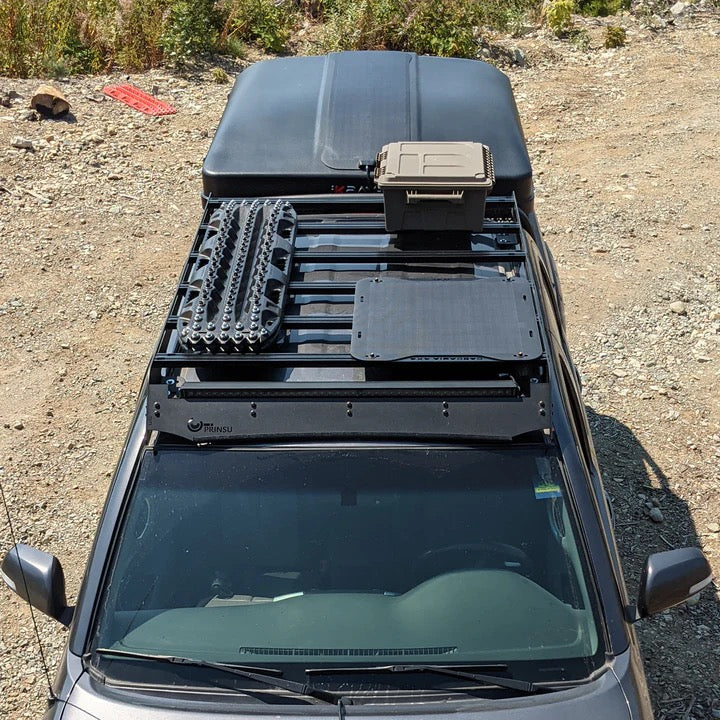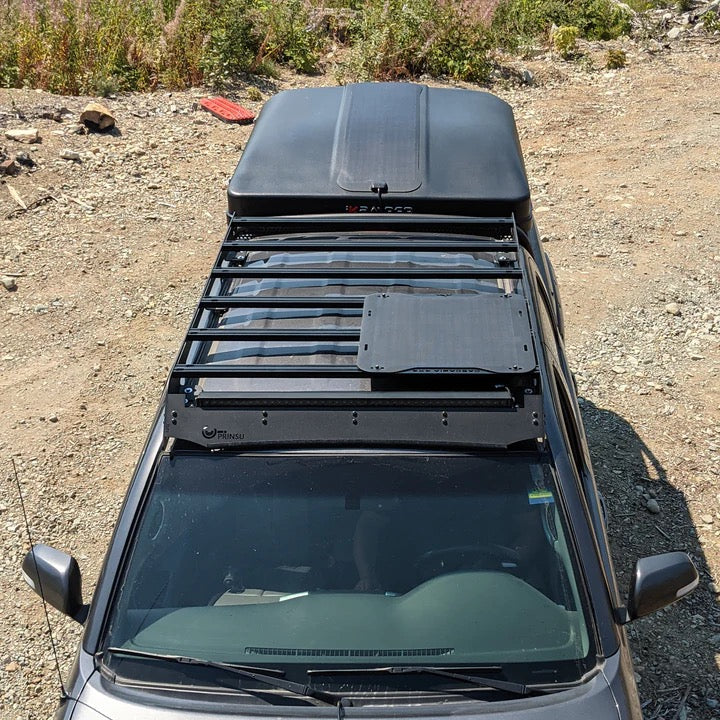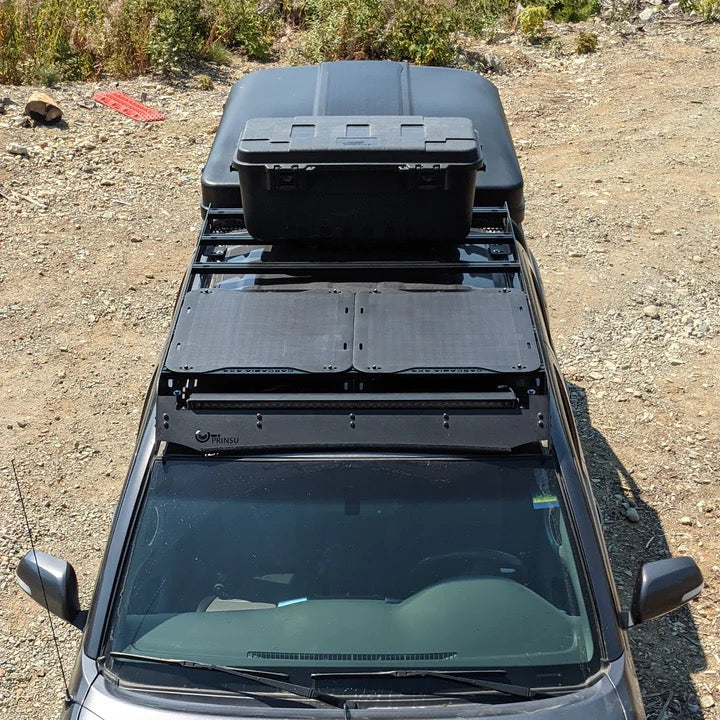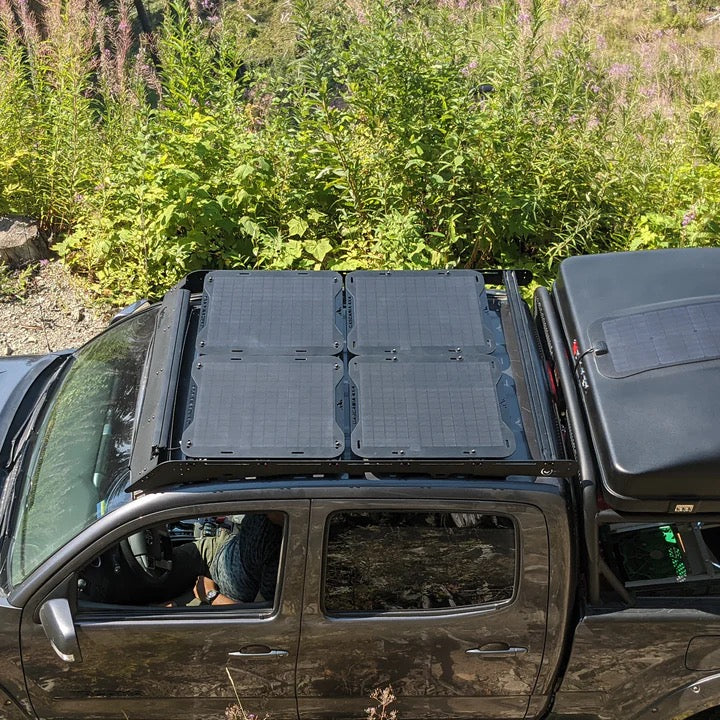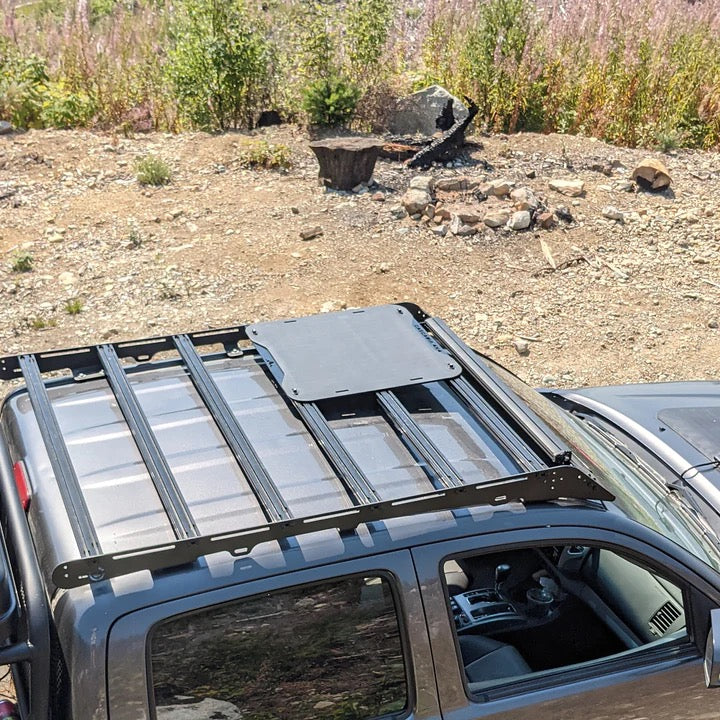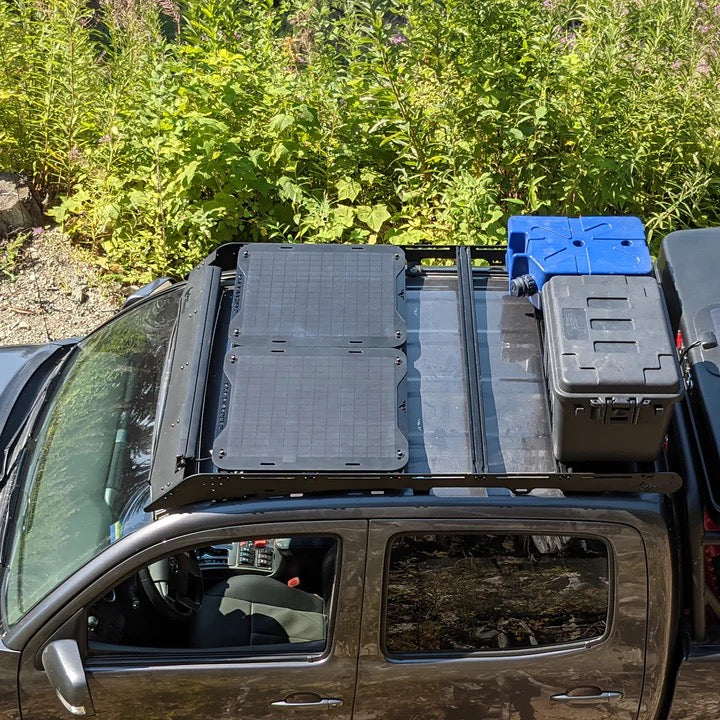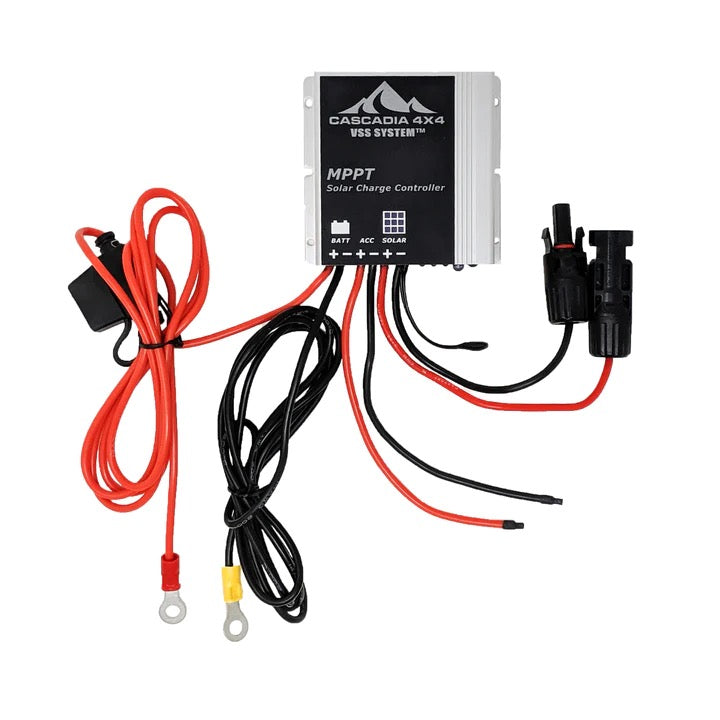 PRINSU Roof Rack Modular Solar System | 45 WATTS
---
In Stock & Ready To Ship!
Cascadia 4x4 is proud to introduce the Prinsu Roof Rack Modular Solar System. This 45W Prinsu Roof Rack-specific solar panel can be run as a single unit or combined with as many units as required in order to achieve your desired power output (e.g. 4x panels produce 180W). Each panel is mounted to a 4mm powder-coated aluminum backplate that provides an abundance of different mounting options and configurations.
Choose the size of your solar system by adding as many 45-watt solar panels as needed to your Prinsu roof rack. The rugged construction of the solar panels combined with the rigidity of the aluminum backplate even allows you to stack gear on top of the panels without causing any damage.
During daylight hours, the solar system provides a constant flow of clean solar energy to your primary or secondary vehicle batteries. This gives you the ability to run 12V accessories like fridges, phone/laptop chargers, lights, power inverters, etc. without the need to start your engine and without the fear of draining your battery and leaving you stranded.
The Prinsu Roof Rack Modular Solar System should be paired with the optional MPPT solar charge controller. The weatherproof MPPT charge controller comes pre-wired and can be conveniently mounted to the base of the solar panel(s). A single charge controller can be used for up to 2 of these 45W solar panels wired in series. A system consisting of 3 or 4 panels would require a minimum of 2 charge controllers.
The most stable and durable multilayered solar panel construction available to ensure that these solar panels can withstand extreme environmental conditions, maintenance-free, for years.
The Cascadia 4x4 VSS System™ is currently in use in the Canadian mining industry.
The future of vehicle charging is here.
Go Further, Stay Longer.
BENEFITS
Keep your battery topped up at all times with a solar panel mounted on your Prinsu roof rack: Perfect for the overlander or camper who wants to power devices without worrying about draining their battery.
Extend the life of your battery: The Cascadia 4x4 VSS System™ will give you longer overall battery life by tending it constantly during periods of sun exposure.
Emergency engine starting device: If you ever manage to completely drain your battery the VSS System™ will start the vehicle up again in as little as 30 minutes depending on sun exposure.
HOW DOES IT MOUNT?
Each panel comes pre-mounted to the laser-cut aluminum back sheet. Using the supplied carriage bolts, washer and nuts, you simply choose the orientation of the panels and bolt them onto the rack.
Key Features:
Modular 45W solar panels: Customize your setup with as many panels as necessary for your roof rack!
Rugged "Marine-Grade" construction to withstand extreme environmental conditions.
Laser-cut & powder-coated aluminum backsheet provides rigidity while cutouts allow for airflow around the solar panel to aid cooling.
Perfect for Overlanding, camping, and the job site. Keep your drinks cold and equipment charged without killing your battery.
Solar Made Simple: The optional "Plug-and-Play" complete kit includes everything you need for a clean and simple install.
2-year warranty.
- 45 watt solar panels for your Prinsu Roof Rack, these solar panels are only 3mm thick and are pre-mounted to a 4mm thick laser cut piece of powder-coated aluminum for low profile and solid design. Because of the robust construction, you are able to stack gear (recovery gear, totes, etc) on top of the panels if necessary.
- Durable marine-grade solar panel construction. The panels are made from 8 laminated layers consisting of a fiberglass backsheet and high-tech polymers allowing them to stand up to harsh environmental conditions like rain/snow/ice/mud/rocks/sticks etc. High durability makes these panels perfect for an off-road vehicle.
- Laser-cut aluminum backplate feature cutouts that allow for air to flow around the solar panel to aid with cooling. Allowing your system to work more efficiently.
- Optional Plug-and-play MPPT solar charge controller. This waterproof unit can be mounted outside and is highly resistant to heat and vibration. It automatically controls how much electricity reaches the battery and prevents overcharging. The charge controller has been pre-wired with fuses, terminals, and connectors to take out all of the guesswork in setting up the VSS System™. Up to 2x 45-watt panels can be wired (in series) into 1 charge controller.
Factory-like appearance. The VSS System™ follows the contours and mounting options of the Prinsu roof rack, perfectly giving it a seamless and sleek aesthetic. Final assembly and quality control are done at our Canadian production facility to ensure that every VSS System™ functions perfectly. At Cascadia 4x4 we stand behind the quality of our products.
Specifications:
Power: 45W Voc: 24.9V Vmp: 21.7V Isc: 3.6A Imp: 3.25A
Dual 45-watt panels (wired in series):
Power: 45W Voc: 24.9V Vmp: 21.7V Isc: 3.6A Imp: 3.25A