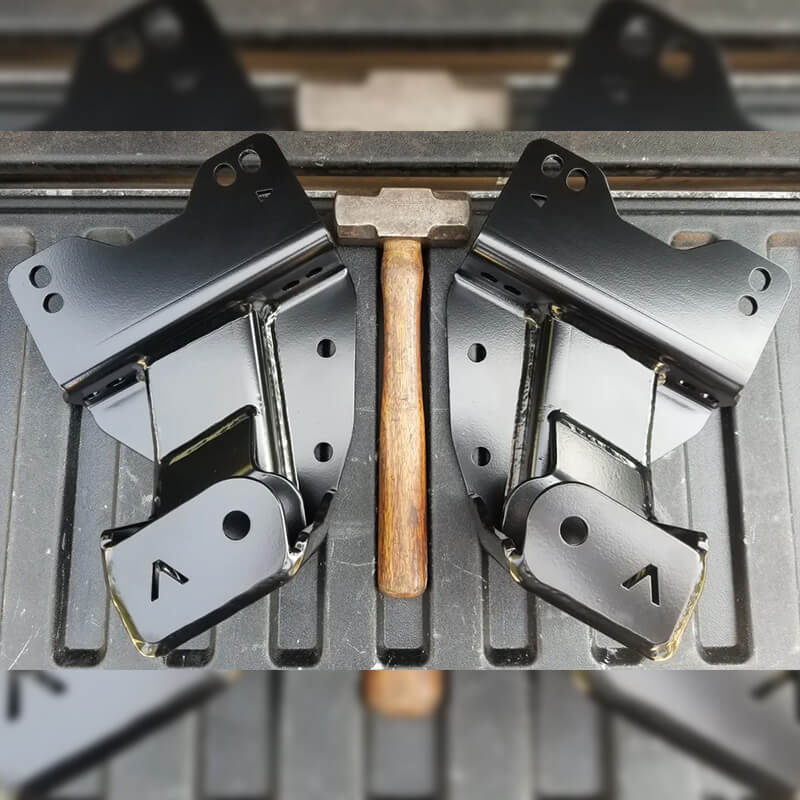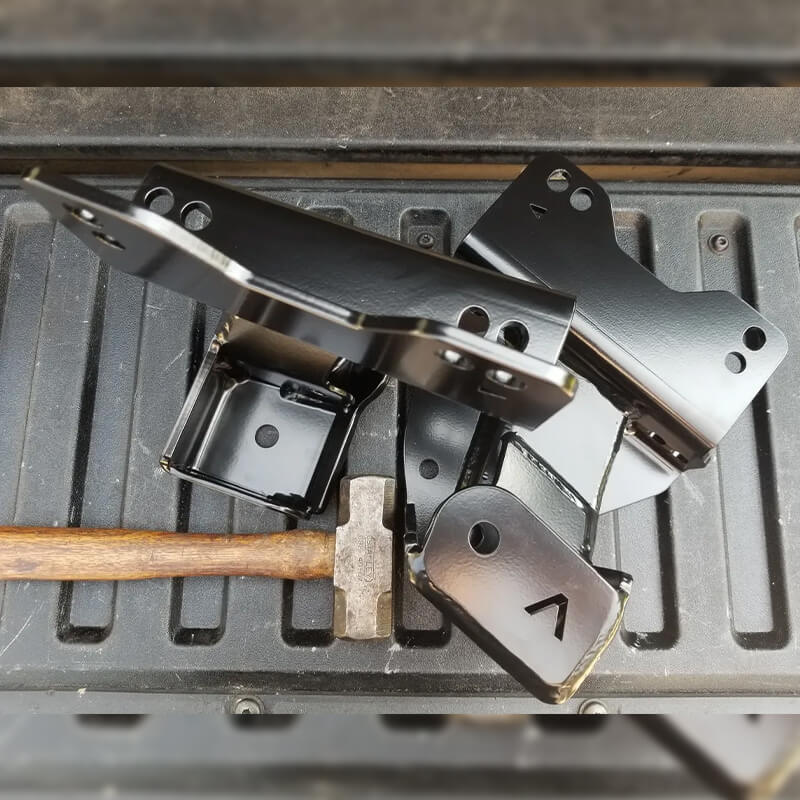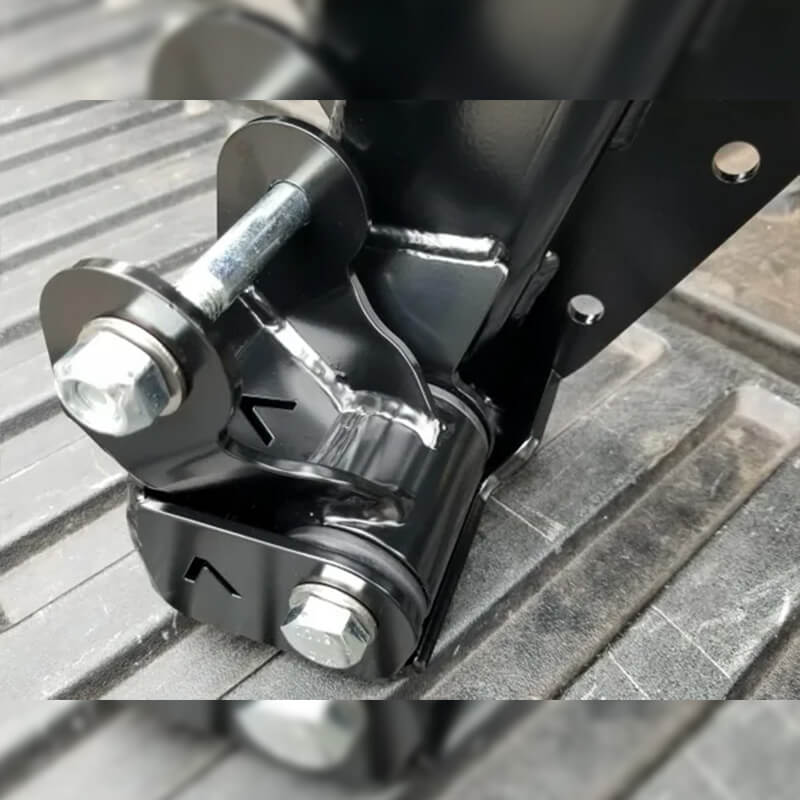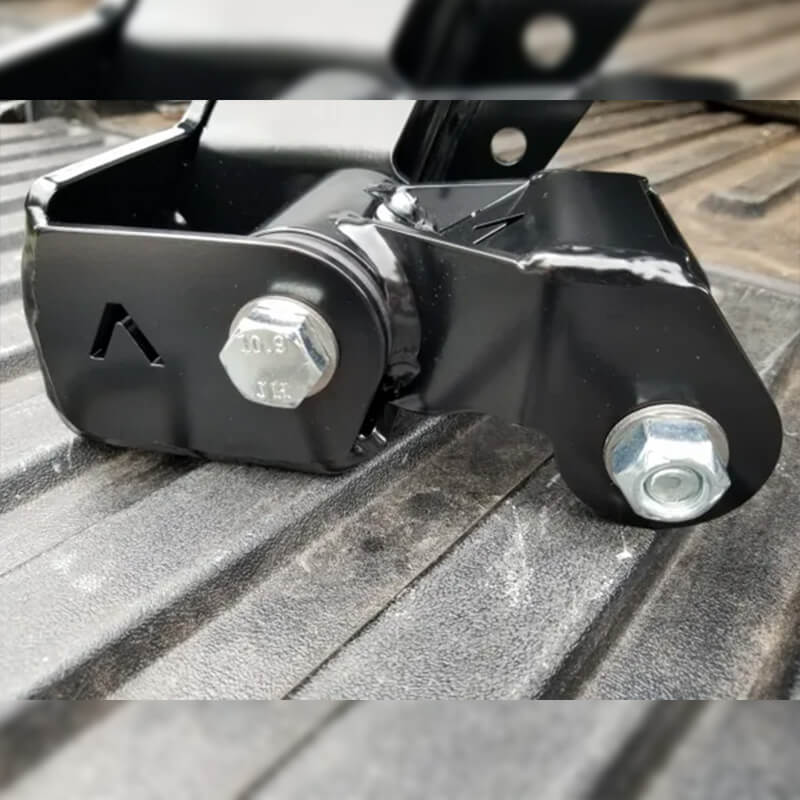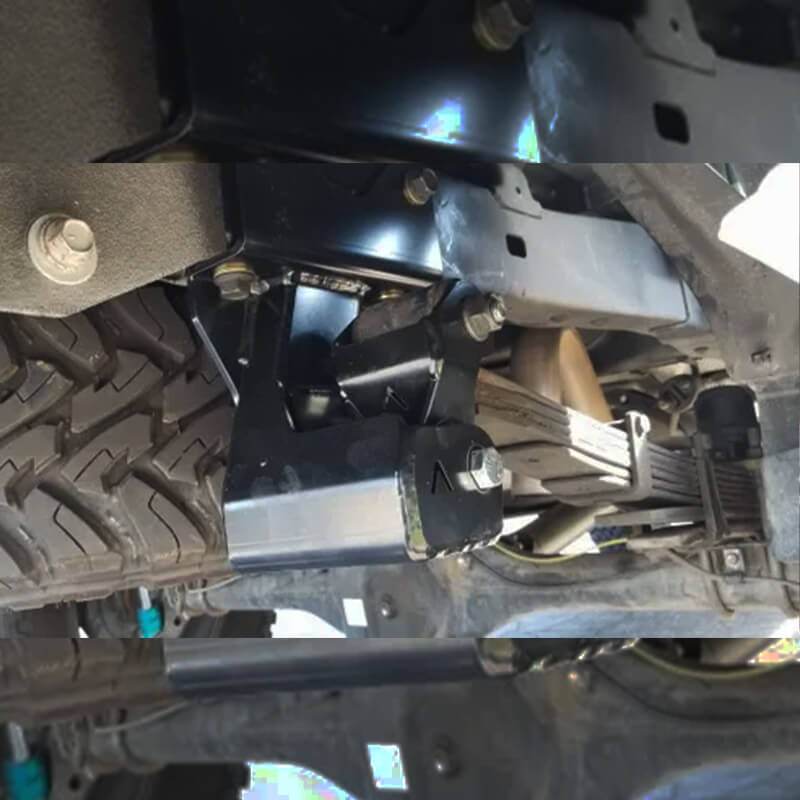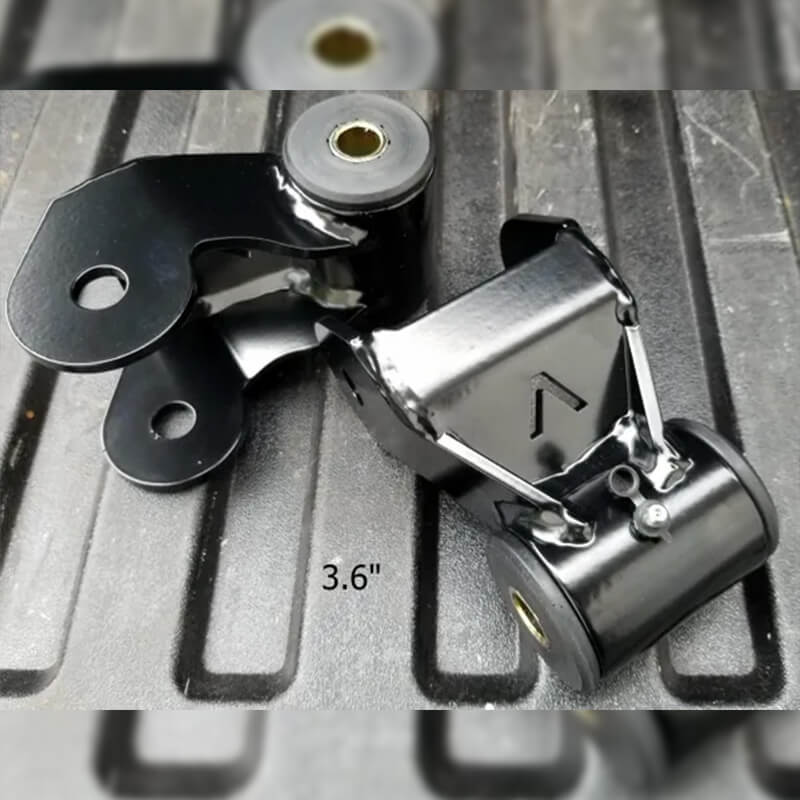 2005-2023 Toyota Tacoma Hammer Hangers
---
CURRENT ESTIMATED LEAD TIME IS 31 DAYS
WHAT THEY DO:
✔ Noticeably improve ride quality and composure
✔ Improve handling by reducing rear sway
✔ Support increased travel capacity (12" typical with shock relo, 14" max), 
✔ Vastly increase durability over stock flimsy hangers, which cause the annoying Tacoma rear jitters.   
✔ Properly align with the leaf springs!!!
✔ Hamer Hanger Version 3: Highest clearance replacement hangers on the market, ONLY hangers featuring 2 positions for different length springs
✔ Compatible with EVERY Spring Over Axle (SOA) spring pack on the market and Spring Under Axle (SUA) conversions (4.0" shackles recommended).  
✔ A must for all Tacomas from stock daily driver to fully built (No other mods are required to run these hangers)
Hammer Hangers kit includes:

✔ (1) Right hand & (1) Left hand hanger, laser cut and CNC bent 1/4" HSLA 50,000psi (30% stronger) plate structure, fully MIG welded.  >>>2 stage powder coat: blast, zinc base prime, semi-gloss black top coat<<< 
✔ (4) Metric M14 Class 10.9 (Grade 8 equiv) shackle bolts and lock nuts 
✔ (8) 1/2" Grade 8 frame bolts and lock nuts   
Designed with factory rivet hole pattern, but requires drilling out factory rivets thru to ½" 
✔ Written instructions provided.  If you have longer shocks, longer brake lines ~24"-26" (20" stock) are required.
Please Note:
Trimming of exhaust tailpipe should only be needed with shock relocation and SUA springs.
NO LIFT on VERSION 3. (HH version 3 released 8/2020)
DO NOT ALLOW TAILPIPE TO SHOOT HOT EXHAUST AT HANGER/SHACKLE!
Shackle Options:

-Reusing stock shackles (3.4") and OEM rubber bushings are totally fine up to ~10" travel  

-Select quality poly bushings/sleeves for the stock shackle for 10"-14" travel (must remove the stock metal/rubber bushings)

-3.6" shackles for spring over axle, 1/4" wall DOM tube, fully assembled w/ poly bushings & grease fitting.

-4.0" shackles for spring under axle, 1/4" wall DOM tube, fully assembled w/ poly bushings & grease fitting. 

(4.0" shackles required for Deaver SUA springs)
Cross Tube Options (*Requires the spare tire be relocated*):

 -The Hi Clearance cross tube option further improves ride quality (~20% of hanger improvement), by increasing rigidity, and stopping frame from splaying out, and protecting frame from stress when one hanger drags.  Fixture-built for accuracy, 1.75" SQ tube steel w/ 1/4" flanges (9 lbs), 2 stage powder coat, includes hardware.
-DIY your own cross tube: select (2) high strength steel bolting flanges and (4) bolts.  You source the tube (Recommend 1.75" DOM .120" wall x 33.5"-trim to fit) does not extend the lead time.  NO WARRANTY ASSISTANCE IF YOU USE A CROSS TUBE BUILT BY ANYONE BESIDES ARCHIVE.
Drill Bit and Spacer for All Pro Spring Bushings:

✔ The All Pro spring eye spacers (1 spacer per spring eye) are to fix AP's issue since they used to supply a narrower than stock 2.75" wide bushing and bolt sleeve (stock is 2.875").  
✔ Drill Bits Option are stubby length, sharp and long lasting drill bits to save you money, time and hassle (1/2" bit requires 1/2" chuck)
Video with Features & Options [Video outdated: Shows VERSION 2] :