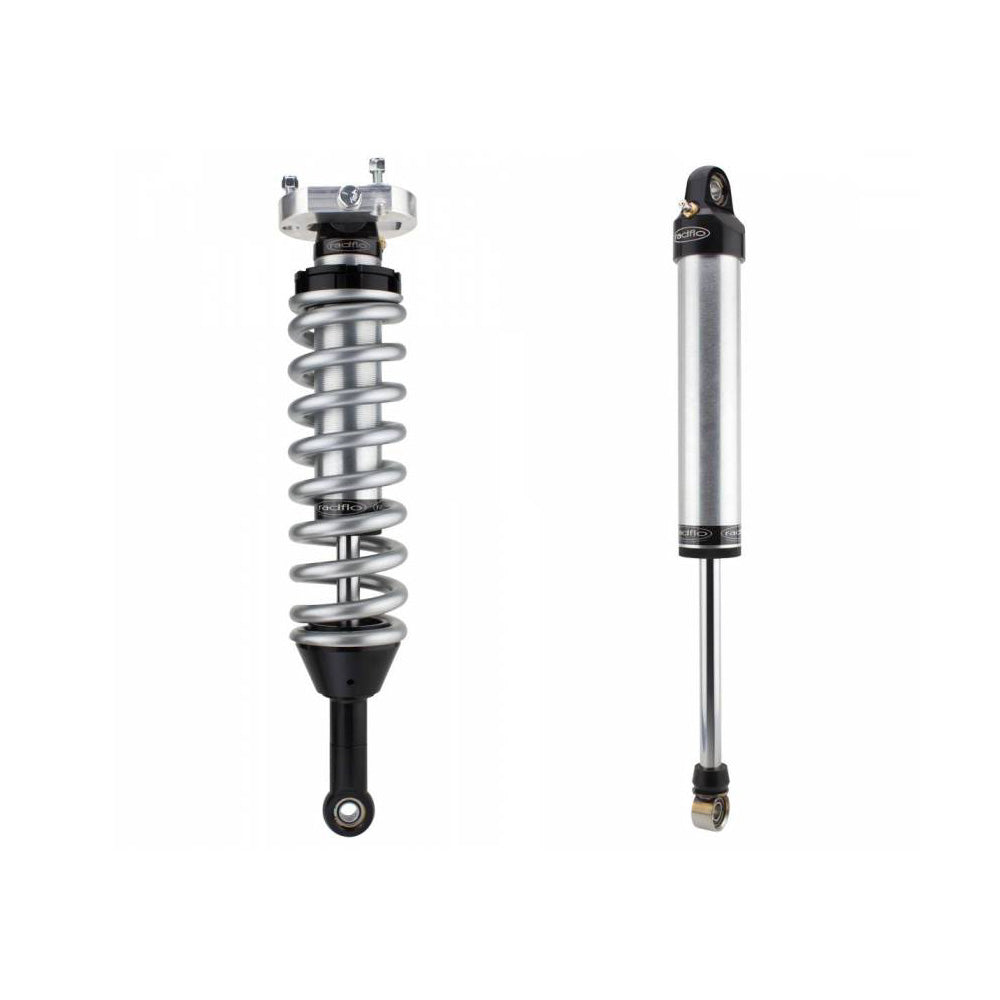 Kit 3 OE Replacement 2.5 Inch Coil-Over Kit Toyota Tacoma 2005+
Regular price
$ 3,025.00
Sale price
$ 2,722.50
Save $ 302.50
/
---
OE COIL OVERS ARE SOLD IN PAIRS AND REAR SHOCKS ARE SOLD AS PAIRS. / ACTUAL PRODUCTS MAY DIFFER IN APPEARANCE TO IMAGES SHOWN.
Note: The internal gas pressure of Rear Emulsion Shocks ramps up very quickly when compressed leading to a poor ride. We recommend going with a Res Shock on the rear, even with non-res front.
Radflo takes great pride in manufacturing premier shock absorbers that are engineered to outlast and outperform the competition.
Through refined craftsmanship, Radflo's products are built to order and all components are manufactured from the highest quality materials and machined engineering.
 As a result, our product line is not only efficient but dependable and provides high-performance outcomes.
FRONT
OE Replacement 2.5 Inch Front Coil-Over Kit Toyota Tacoma 2005+ W/ Remote Reservoir
Coil Over Springs: Eibach Springs
Rod Finish: Mirror Polished/Chrome Plated
Body Cap Material: 6061 Aluminum
PSI: 250 psi
Pressurization: Nitrogen gas
Top: Top Hat
Year / Make / Model: 2005 Toyota Tacoma-2019 Toyota Tacoma
Rod Material: Nitro Steel or Mirror Polished Chromed Rod
Body Cap Finish: Anodized
Service: Factory serviceable
Reservoir Type: Remote Reservoir
Color: Black
Seal: Rebuildable Combination Quad Ring and Lip Seal
Rod Guide Material: Machined Bronze
Bearing Size: OE determined
Oil: Radflo high-temp foam resistant suspension fluid
Mount: OE Location and Hardware
Diameter: 2.5 Inch
Pair / Single: Kit
Bottom: Eye
Finish: Polished Clear Cadmium Plating
Country of Origin: USA
Rod Guide Finish: PTFE Coating
Front / Rear Application: Front
Prop 65 Warning: CALIFORNIA WARNING: Cancer and Reproductive Harm - www.P65Warnings.ca.gov
Adjust Type: Self-Adjusting
Piston: Radflo Freeflo Piston
Shock Type: Coil-Over
Piston Material: Aluminum
Coil-Over Hardware: CNC machined aluminum
Body Material: SSID Alloy Steel
OE Replacement 2.5 Inch Front Coil-Over Kit Toyota Tacoma 2005+ W/ Remote Reservoir Extended for Use W/ Aftermarket Upper Control Arms
Service: Factory serviceable
Reservoir Type: Remote Reservoir
Color: Black
Seal: Rebuildable Combination Quad Ring and Lip Seal
Rod Guide Material: Machined Bronze
Bearing Size: OE determined
Oil: Radflo high-temp foam resistant suspension fluid
Mount: OE Location and Hardware
Diameter: 2.5 Inch
Pair / Single: Kit
Bottom: Eye
Finish: Polished Clear Cadmium Plating
Country of Origin: USA
Rod Guide Finish: PTFE Coating
Front / Rear Application: Front
Prop 65 Warning: CALIFORNIA WARNING: Cancer and Reproductive Harm - www.P65Warnings.ca.gov
Adjust Type: Self-Adjusting
Piston: Radflo Freeflo Piston
Shock Type: Coil-Over
Piston Material: Aluminum
Coil-Over Hardware: CNC machined aluminum
Body Material: SSID Alloy Steel
Coil Over Springs: Eibach Springs
Rod Finish: Mirror Polished/Chrome Plated
Body Cap Material: 6061 Aluminum
PSI: 250 psi
Pressurization: Nitrogen gas
Top: Top Hat
Year Make Model: 2005 Toyota Tacoma-2019 Toyota Tacoma
Rod Material: Nitro Steel or Mirror Polished Chromed Rod
Body Cap Finish: Anodized
REAR
OE Replacement 2.5 Inch Rear Toyota Tacoma 2005+ W/ Remote Reservoir
Seal: Rebuildable Combination Quad Ring and Lip Seal
Rod Guide Material: Machined Bronze
Color: Black
Oil: Radflo high-temp foam resistant suspension fluid
Mount: OE Location and Hardware
Bearing Size: OE determined
Pair / Single: Each
Bottom: Eye
Diameter: 2.5 Inch
Country of Origin: USA
Rod Guide Finish: PTFE Coating
Finish: Polished Clear Cadmium Plating
Prop 65 Warning: CALIFORNIA WARNING: Cancer and Reproductive Harm - www.P65Warnings.ca.gov
Adjust Type: Self-Adjusting
Front / Rear Application: Rear
Shock Type: Smooth Body
Piston Material: Aluminum
Piston: Radflo Freeflo Piston
Body Material: SSID Alloy Steel
PSI: 200 psi
Rod Finish: Mirror Polished/Chrome Plated
Body Cap Material: 6061 Aluminum
Year Make Model: 2005 Toyota Tacoma-2019 Toyota Tacoma
Pressurization: Nitrogen gas
Top: Stem
Rod Material: Nitro Steel or Mirror Polished Chromed Rod
Body Cap Finish: Anodized
Service: Factory serviceable
Reservoir Type: Remote Reservoir
OE Replacement 2.5 Inch Rear Toyota Tacoma 2005+ Emulsion Piston Extended For 3 Inch Lift
Adjust Type: Self-Adjusting
Finish: Polished Clear Cadmium Plating
Prop 65 Warning: CALIFORNIA WARNING: Cancer and Reproductive Harm - www.P65Warnings.ca.gov
Piston Material: Aluminum
Front / Rear Application: Rear
Shock Type: Smooth Body
PSI: 200 psi
Piston: Radflo Freeflo Piston
Body Material: SSID Alloy Steel
Lift Height: 3 Inch
Rod Finish: Mirror Polished/Chrome Plated
Body Cap Material: 6061 Aluminum
Year Make Model: 2005 Toyota Tacoma-2019 Toyota Tacoma
Pressurization: Nitrogen gas
Top: Stem
Rod Material: Nitro Steel or Mirror Polished Chromed Rod
Body Cap Finish: Anodized
Service: Factory serviceable
Rod Guide Material: Machined Bronze
Seal: Rebuildable Combination Quad Ring and Lip Seal
Mount: OE Location and Hardware
Color: Black
Oil: Radflo high-temp foam resistant suspension fluid
Bottom: Eye
Bearing Size: OE determined
Pair / Single: Each
Rod Guide Finish: PTFE Coating
Diameter: 2.5 Inch
Country of Origin: USA
OE Replacement 2.5 Inch Rear Toyota Tacoma 2005+ W/ Internal Floating Piston
Country of Origin: USA
Rod Guide Finish: PTFE Coating
Rod: Nitro Steel or Mirror polished Chromed Rod
Valving: Self-adjusting
Valving: velocity-sensitive deflective disc
Adjust Type: Self-Adjusting
Rod Finish: Mirror Polished/Chrome Plated
Prop 65 Warning: CALIFORNIA WARNING: Cancer and Reproductive Harm - www.P65Warnings.ca.gov
Piston Material: Aluminum
Rod Guide: PTFE Coating CNC Machined Bronze
Shock Type: Smooth Body
Body Style: SSID Alloy Steel Tube
PSI: 200 psi
Pressurization: Nitrogen gas
Body Material: SSID Alloy Steel
Body Caps & Eyelets: CNC Machined 6061 Aluminum Black Anodizing
Rod Material: Nitro Steel or Mirror Polished Chromed Rod
Body Cap Material: 6061 Aluminum
Color: Black
Service: Factory serviceable
Top: Stem
Bearing Size: OE determined
Shock Mount: OE Location and Hardware
Body Cap Finish: Anodized
Diameter: 2.5 Inch
Seal: Rebuildable Combination Quad Ring and Lip Seal
Rod Guide Material: Machined Bronze
Finish: Polished Clear Cadmium Plating
Oil: Radflo high-temp foam resistant suspension fluid
Mount: OE Location and Hardware
Front / Rear Application: Rear
Pair / Single: Each
Bottom: Eye
Piston: Radflo Freeflo Piston