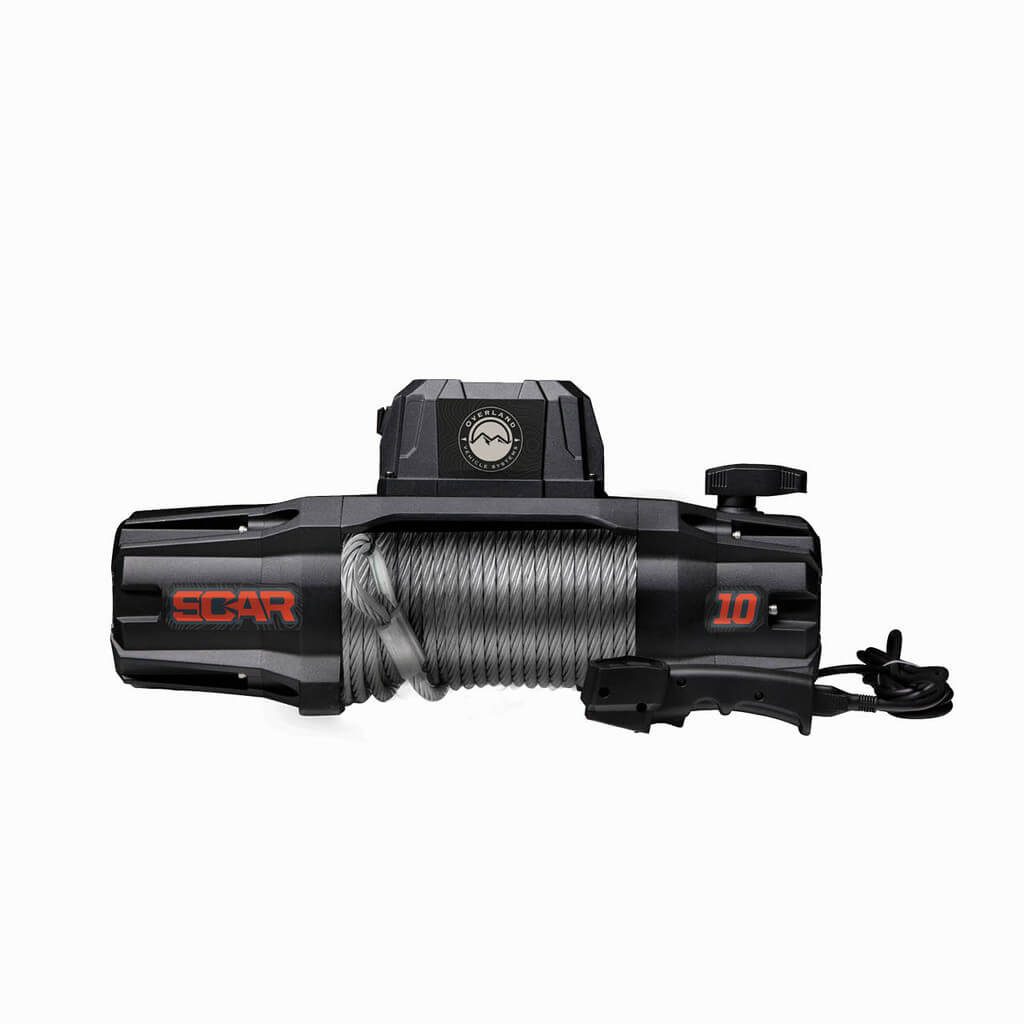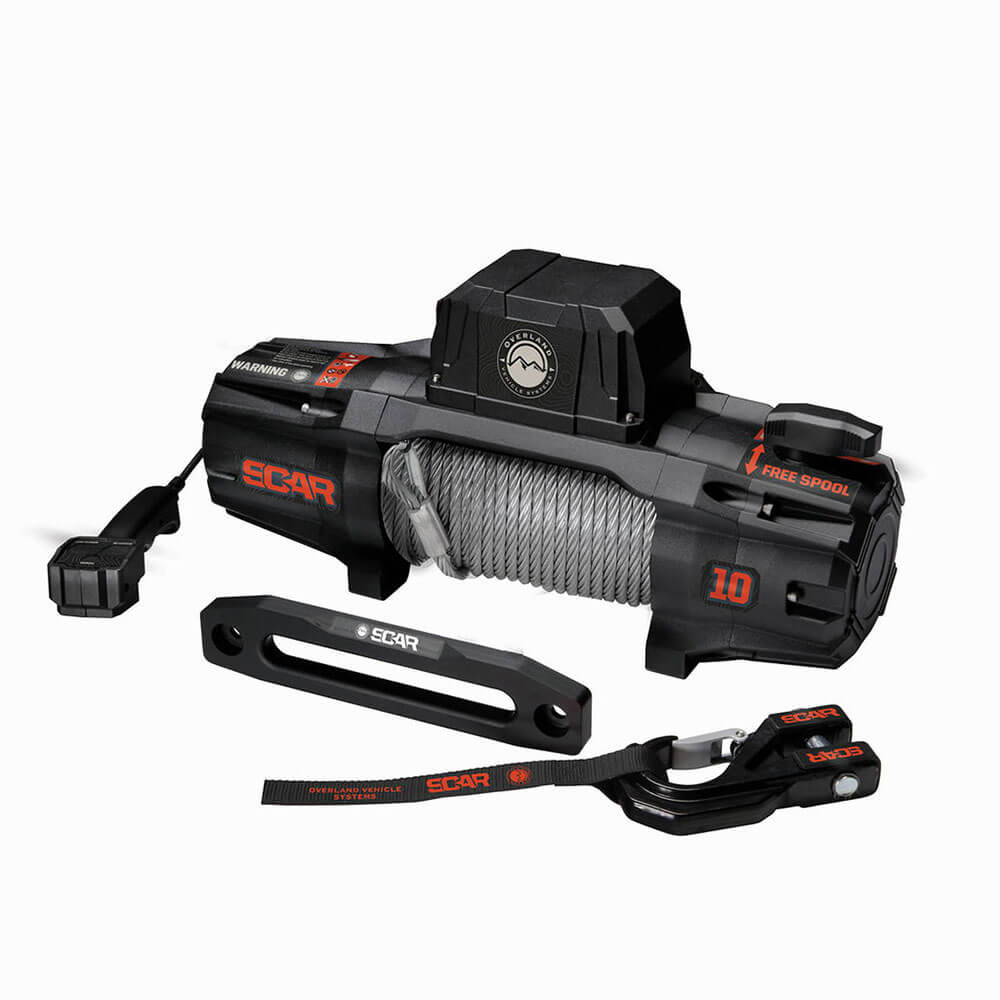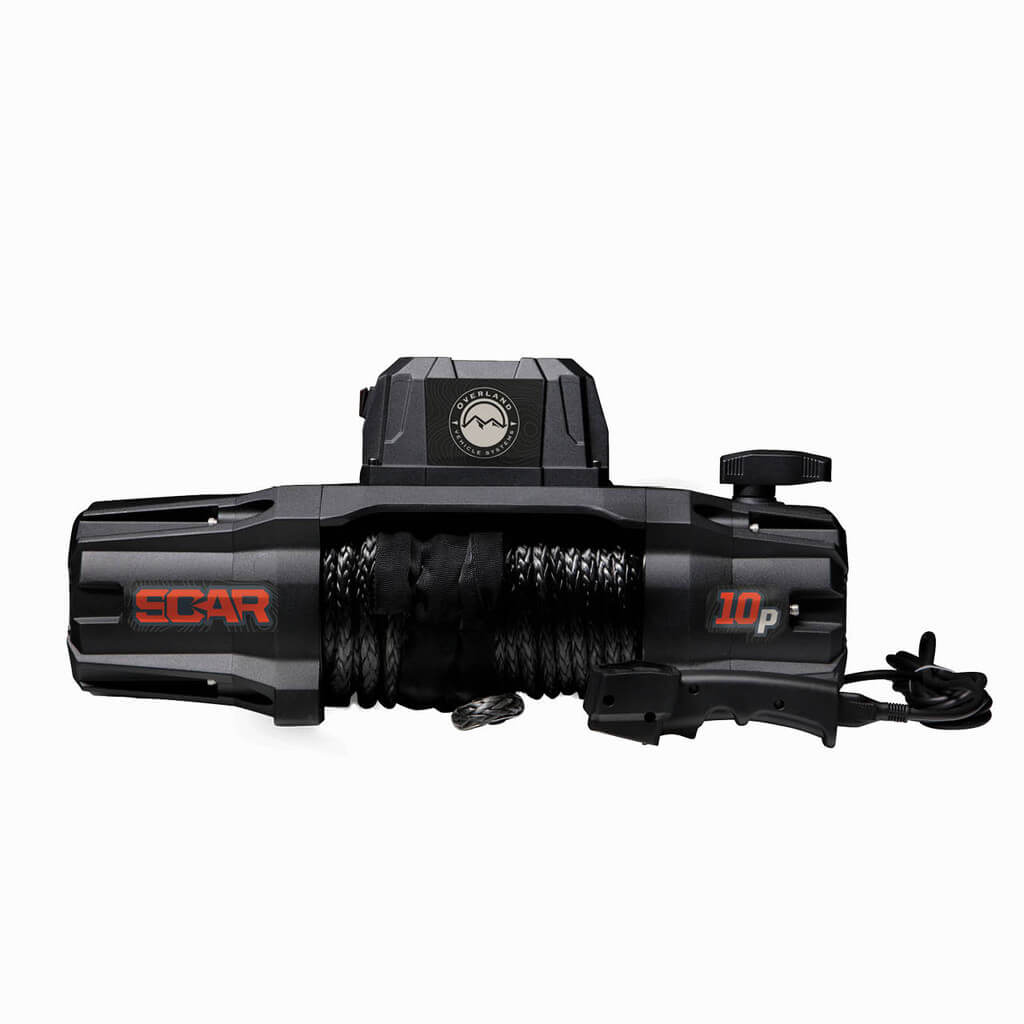 SCAR 10 Waterproof Winch with Wireless Remote
---
THIS PRODUCT IS CURRENTLY ON BACK-ORDER
The perfect choice for your off-road vehicle recovery
Get out there and explore with the Overland Vehicle Systems S.C.A.R 10K Winch with Steel Cable!
Whether you're looking for vehicle recovery or just want provide peace of mind to your off-road adventures, this Winch will get the job done!
Premium 10K Winch
The Overland Vehicle Systems S.C.A.R. 10,000lb Winch is the perfect choice for your off-road vehicle recovery needs. This winch has been upgraded to deliver superior performance and power compared to other winches, ensuring you can get out of any adverse situation safely and quickly. It comes equipped with an extra strong cable that is designed to withstand all kinds of rough terrain and challenging conditions, so you never have to worry about being stuck in a bad situation again! Plus, this versatile winch is suitable for any type of recovery – whether it's mud, sand, or snow – making it the ideal solution for any off-road adventure. So, if you're looking for a winch that will provide reliable performance and power, look no further than the Overland Vehicle Systems S.C.A.R. 10K Winch!

Superior Functionality
The Overland Vehicle Systems S.C.A.R. 10,000lb Winch is the ultimate winch for off-road vehicle recovery. Built to perform under extreme conditions, this Winch features a 6.5 Horsepower series wound motor that provides lightning fast line speed at 42 feet per minute and low DB output. The oversized engagement handle is made from 6061 aircraft grade aluminum and operates effortlessly due to its precision engineered ring gear and 3 stage planetary gear system. The braking system has a military spec cone built into the motor with an automatic engagement system when operating in forward or reverse pull, providing zero creep and heat even under high stress pulls. With rugged construction and reliable performance, the S.C.A.R Winch is optimal for repetitive pulls and ideal for the most extreme recovery situations you may encounter on your off-road adventures.
Included:
✔ Overland Vehicle Systems S.C.A.R. 10,000lb
✔ Winch with Steel Cable or Synthetic Rope (according to choice)
✔ Instructions
This winch comes with a 6.5 HP Series Wound motor, a 3-Stage Planetary Gear Systems with Ring Gear, and IP68 rated waterproofing.
The integrated wireless remote comes with an 11.5' removable cable, lithium battery for easy operation.
Mounting this winch to your vehicle is simple thanks to its 10" x 4.5" standard fitment bolt pattern and includes heavy-duty hook and 85' cable for durability and reliability when pulling up to 10,000 lbs of weight.
A 500A (Heavy-Duty) solenoid ensures good starting performance in all weather conditions - perfect for any off-roading adventure.
To make operation easier, the Winch comes with an ergonomic clutch lever and a 12V power source that ensures smooth operation even when the engine is off.
Single Line Rated Pull: 10,000lb
Motor: 6.5hp Series Wound
Waterproof: IP68 Rated
Voltage: 12V
Control: Wireless Remote w. 11.5' Lead with Built in Lithium Battery
Gear Train: 3 Stage Planetary Gear Systems with Ring Gear
Gear Ration: 181:1
DB Output: Low
Clutch: Rotating Ring Gear
Braking Action: Automatic Out-Of-Drum
Drum Size: 2.5" x 8.8"
Mounting Bolt Pattern: 10" x 4.5"
Overall Dimensions: 21.3" L x 6.3" W x 7.9" H
Line Speed: 42' Per Minute
Steel Cable: 11/32" x 85'
Hook: Heavy Duty with Clip
Fairlead: 4 Way Roller Fairlead for Steel Cable | Aluminum Hawse Fairlead for Synthetic Rope
Electric Cable: 70" x 25 mm2
Solenoid: 500A (Heavy – Duty)
Recommended Battery: 650CCA Minimum.
Weight: 81 lbs Steel Cable | 64 lbs Synthetic Rope
Limited Lifetime Warranty Mechanical, 5-Year Electrical