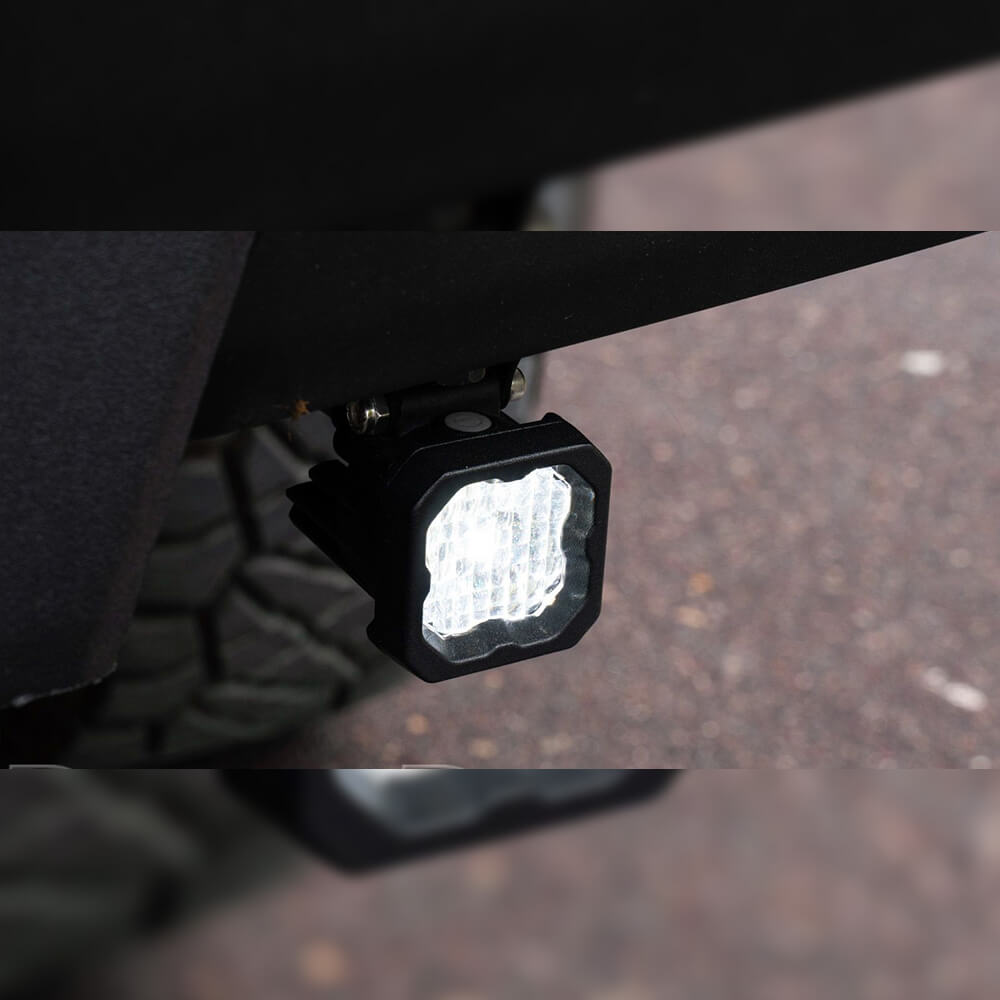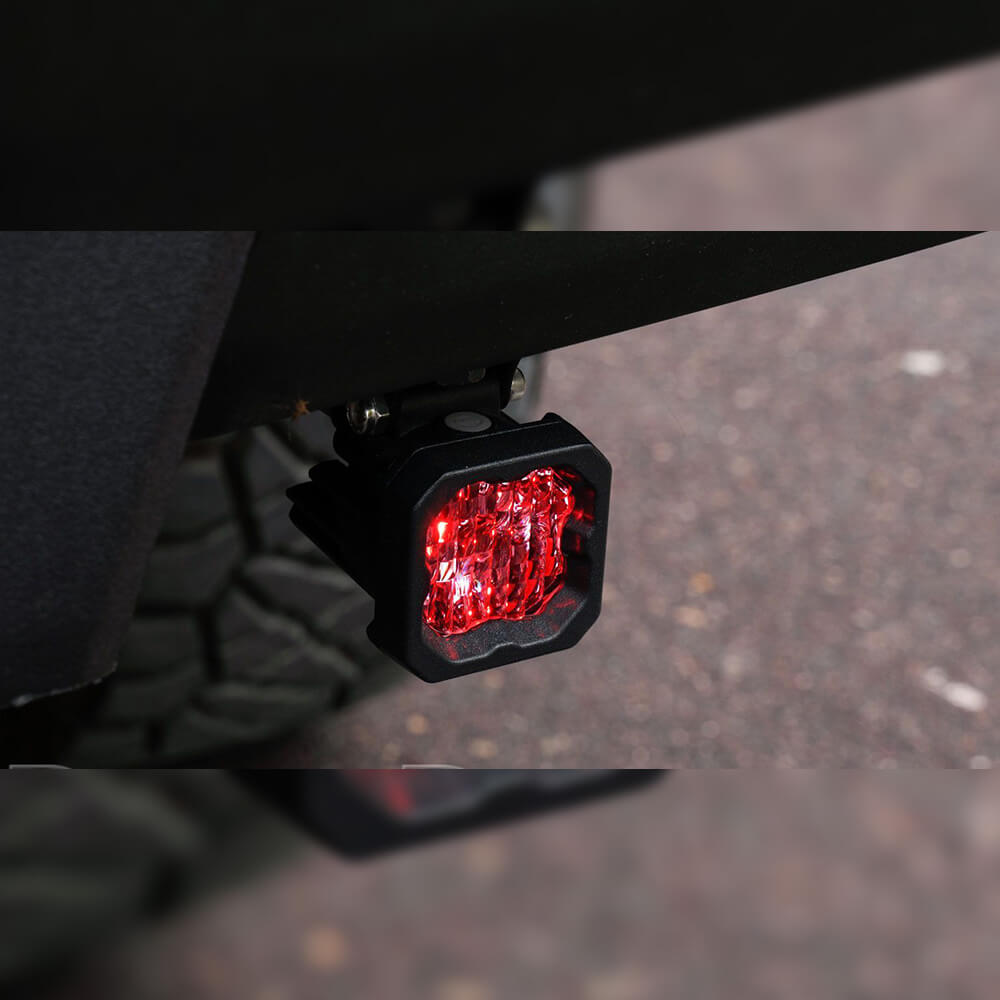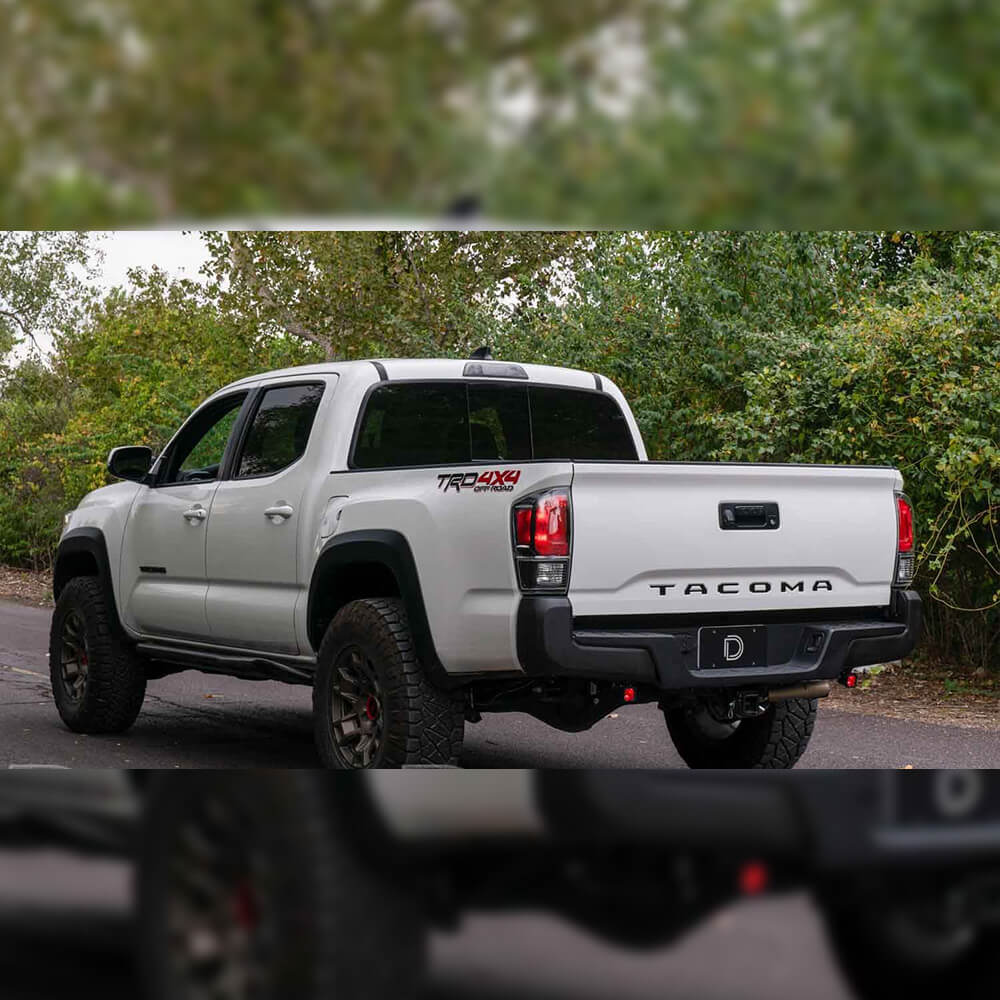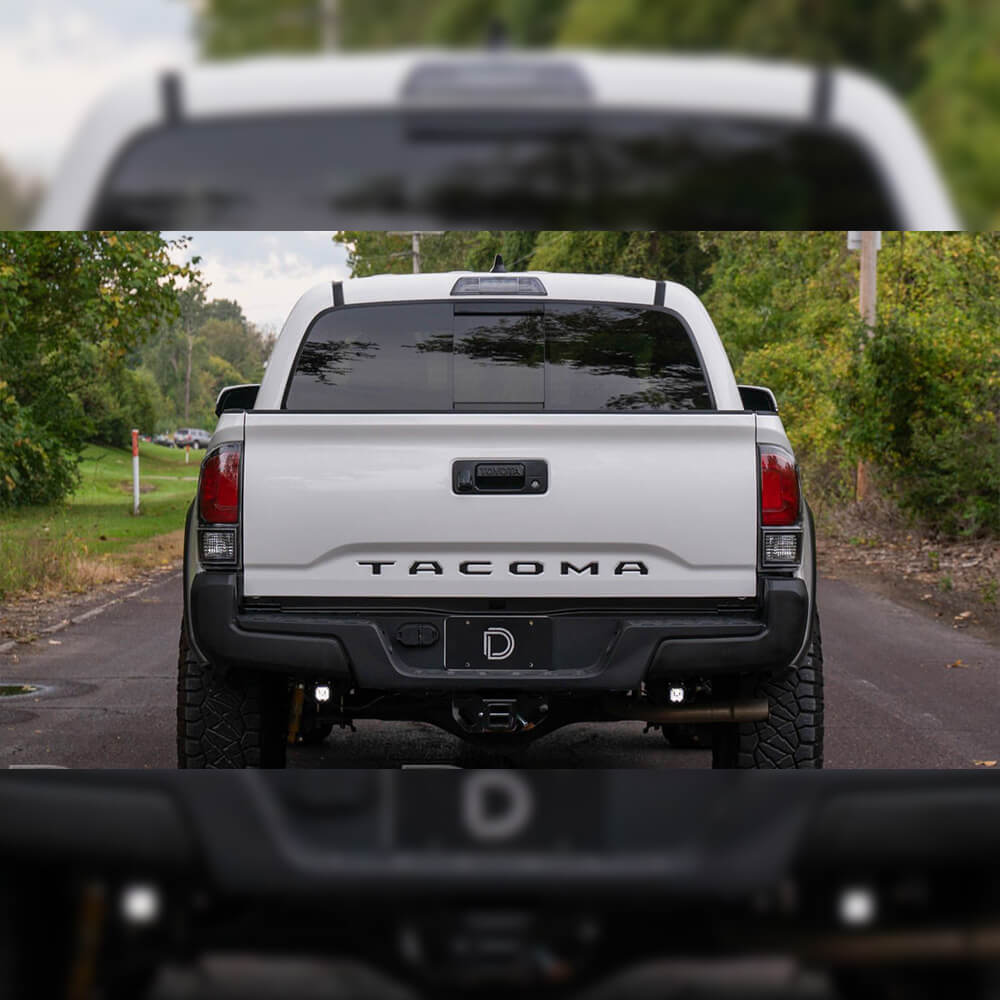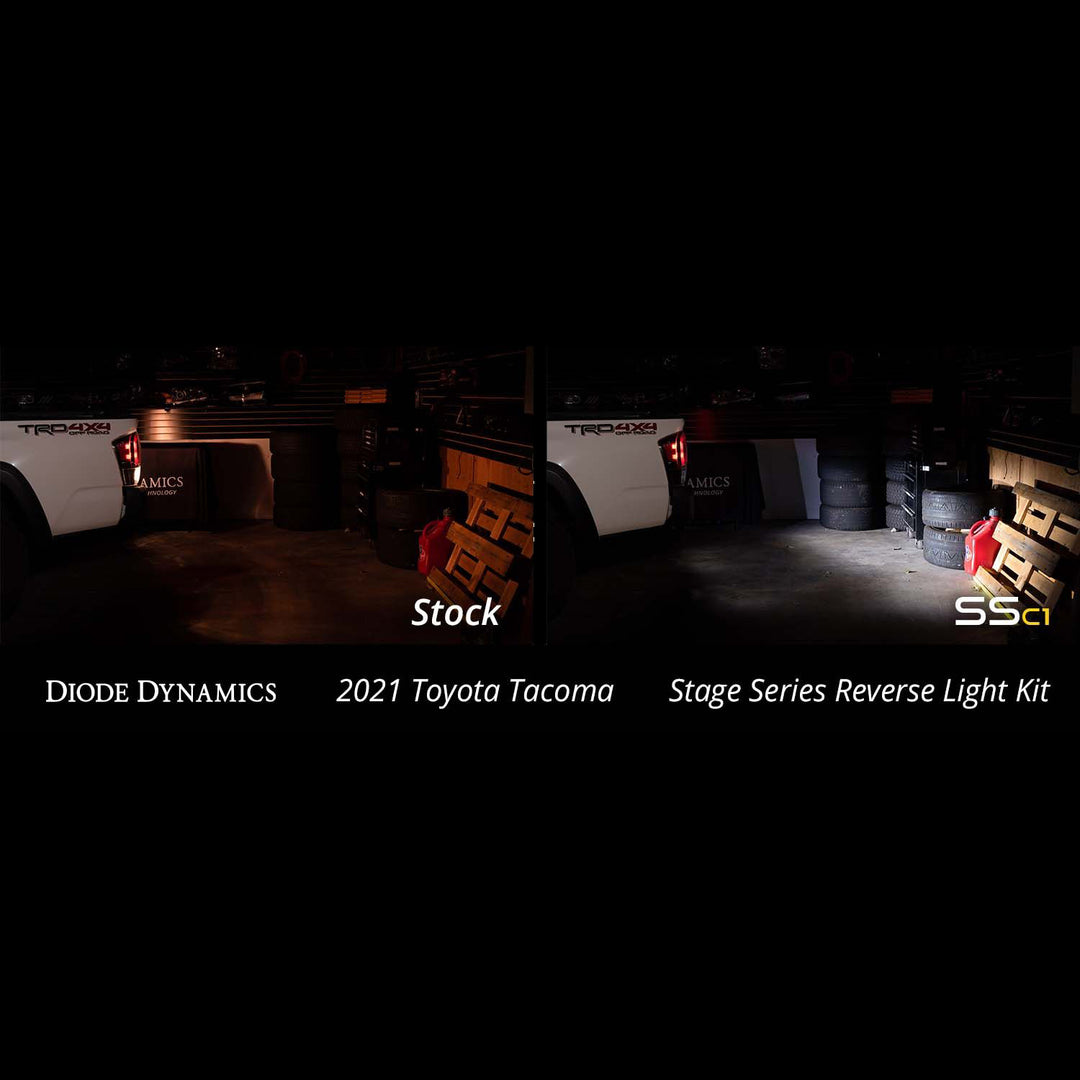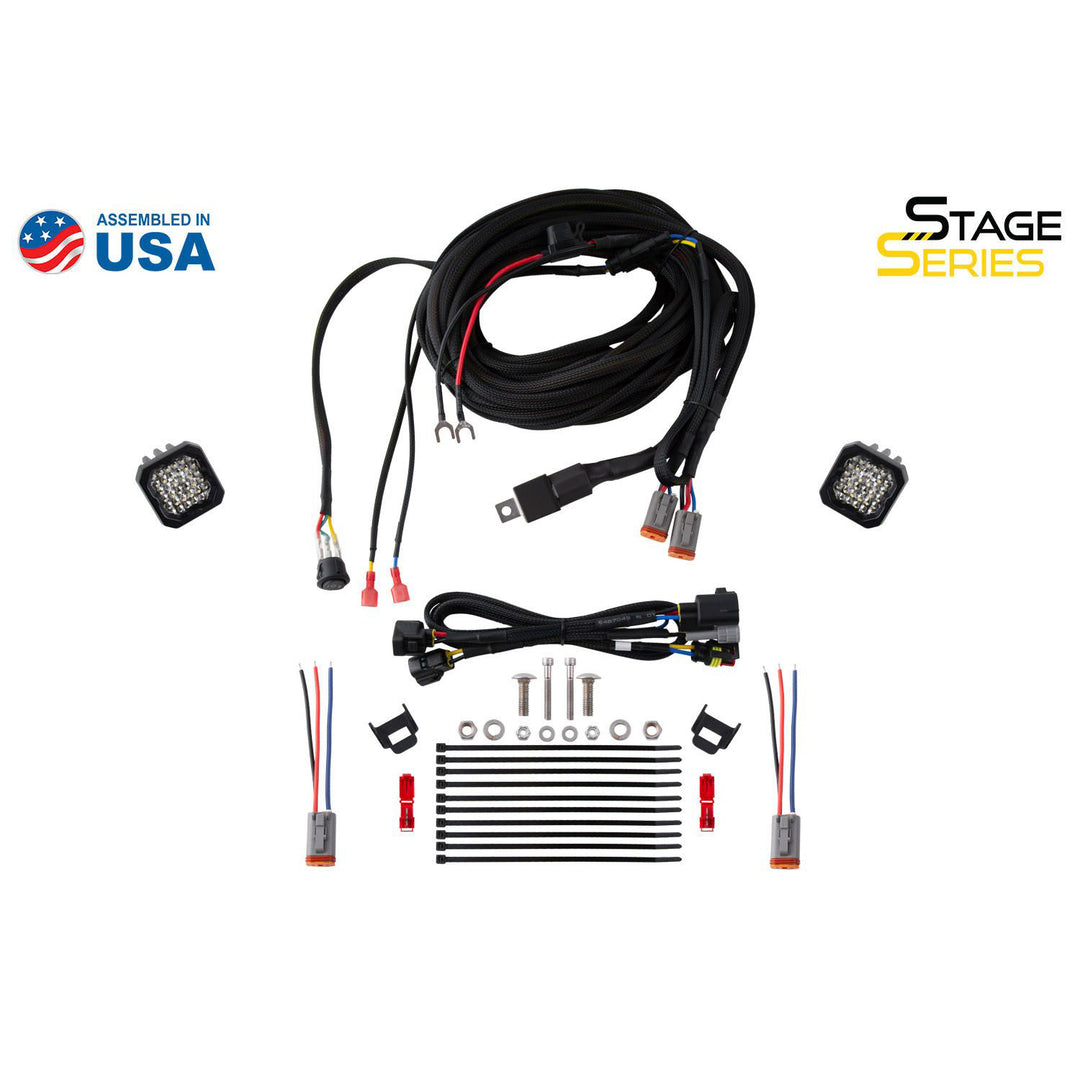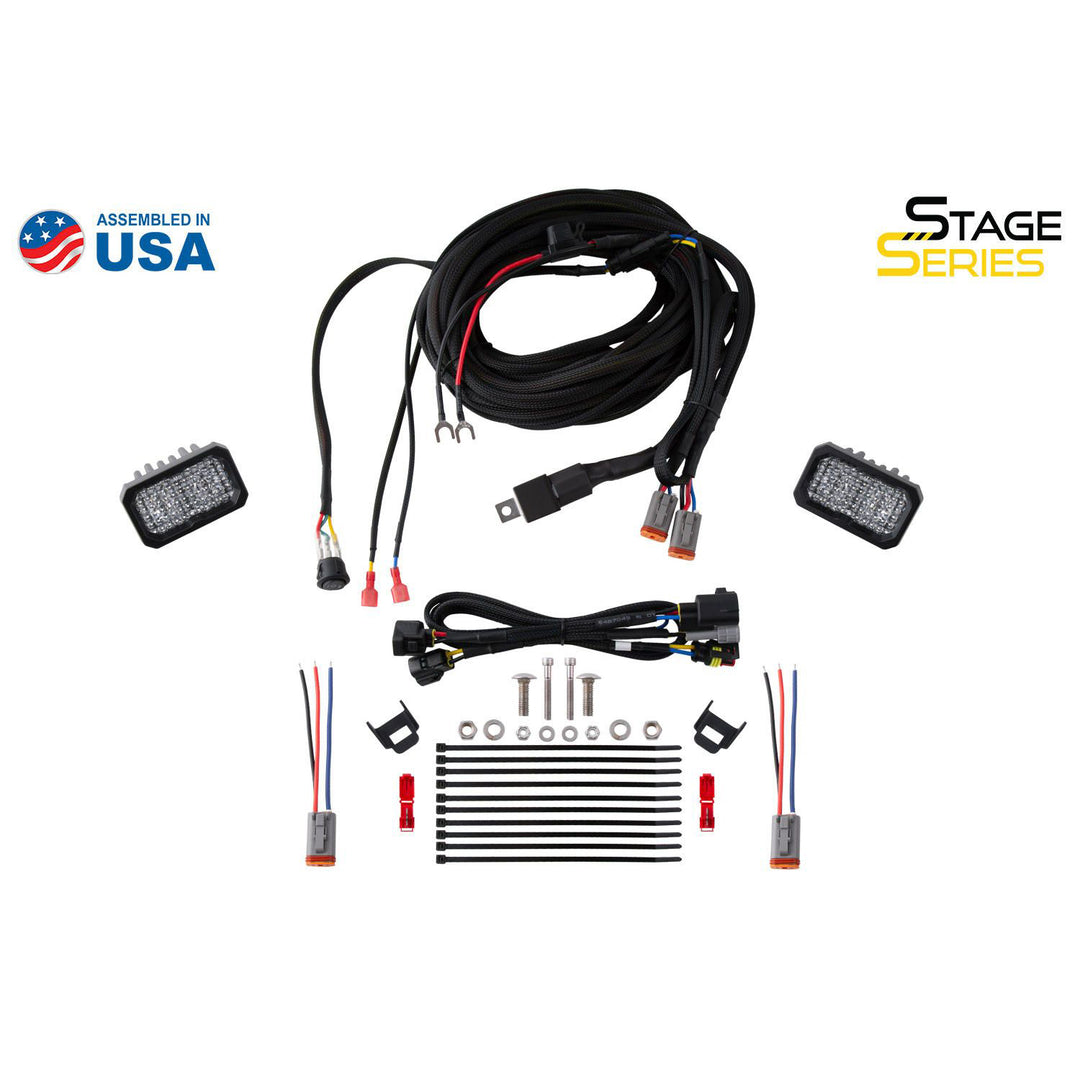 2016-2022 Toyota Tacoma Stage Series Reverse Light Kit
---
Features
Allows you to mount SSC1 or SSC2 pods underneath the 2016-2022 Toyota Tacoma rear bumper. Plug-and-play wiring harness, with OEM connectors and toggle switch override. Provides high-power reverse light, and red accent light. Designed and assembled in the USA.
Overview
Overview. There are plenty of ways to add light behind your Tacoma, but the new Stage Series Reverse Light Kit stands out with innovations in both function and ease of use. This kit includes an integrated red running light, and a plug-and-play wiring harness, for a trouble-free installation! Thanks to Stage Series TIR optic technology, this kit provides a huge amount of extra reverse light. The included switch allows you to toggle it on any time, or activate it automatically with your reverse lights, for a truly integrated solution.
Plug and Play. Thanks to custom-molded OEM connectors, this kit is completely plug-and-play. The included adapter harness plugs right into your factory tail lights for easy installation and operation. No cutting, drilling, or additional wiring is needed! The kit operates as an additional red accent light, with your tail lights, and then automatically switches to a high-power backup light when your vehicle is in reverse. The included toggle switch allows you to override the vehicle signals and turn on the main beam anytime.
Backlight Functionality. The Stage Series LED pods included with this kit feature a distinctive backlight in a vibrant red color which functions as an additional accent light while driving! The backlight fully illuminates the TIR optic, providing a more unique and modern look than the small indicator LEDs found in other products.
Focused. Traditional optics like reflectors or simple lenses lose light internally and glare, so not all of the light shines on the target. Instead, the custom-engineered TIR optic in our Stage Series pods collects all of the light from the LED and directs it only where you need it, drastically reducing glare and improving total efficiency.
From there, while other options on the market lose as much as 10% of the light output shining through an outer lens, the custom-molded TIR optic in the Stage Series LED pods serves as both the optic and main lens for greater efficiency and light output (patent pending). Thanks to this innovative feature, when coupled with high-intensity LED chips, the total intensity of our pods is much greater than other LED pods using basic optics or reflectors with a standard outer lens. Functional Patterns. All Stage Series beam patterns were designed with optical simulation modeling, to shape the output in a highly-functional beam pattern.
The flood pattern was designed to provide uniform, even illumination with a full 50x50 degree spread of light on the SSC1 LED pod, and a 60x60 degree spread on the SSC2 LED pod. Unlike generic "flood" lights that are simply a heavily diffused spotlight, our flood pattern uses pillow optics on the outer lens surface, to provide a true optically designed spread, for even illumination throughout. Stage Series C2 Beam Patterns
Sport or Pro. Stage Series LED pods are available at two different power levels. Both options use high-intensity LED emitters, and TIR optics for unmatched focus and overall output. However, the Pro option is double the amount of total power.
Proven Reliability. Stage Series LED lighting has been extensively tested for long-term operation from -40 to 185 degrees F, along with vibration, moisture intrusion, and corrosion testing. All of these tests are completed to SAE standards, just like factory components. They've also been put to the test on-road by racers and enthusiasts alike.
Experience. After over a decade in business, Diode Dynamics is one of the most trusted names in automotive LED lighting. We directly assemble and engineer an increasing number of products in the United States, allowing for higher quality and performance, with the newest and brightest LED technology. No matter what you're driving, we pride ourselves on offering only the best possible LED solutions. 
What's Included
In the Box:
Two (2) SSC1 or SSC2 Standard LED Pods
One (1) Universal Reverse Light Wiring Harness
One (1) Adapter Harness for the 2016-2021 Toyota Tacoma
Two (2) Mounting brackets
Ten (10) Zip Ties Two
(2) T-Taps
Mounting hardware
Quantity: Two (2) Warranty: 8-year warranty Return Policy: 30-day Return with no restocking fee 100% Satisfaction Guarantee
Fitment Make: Toyota Model: Tacoma Years: 2016-2022