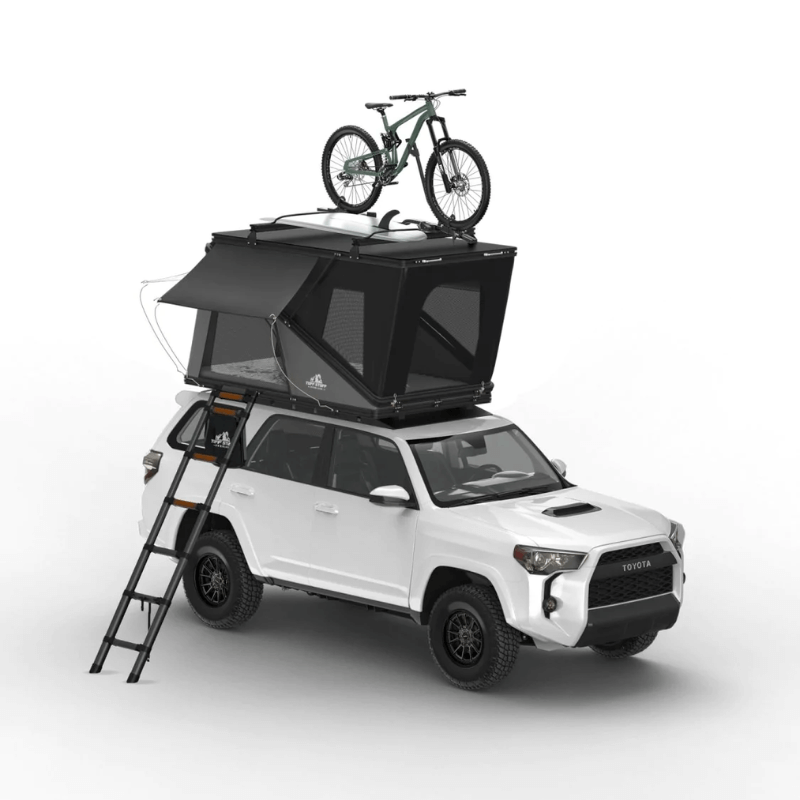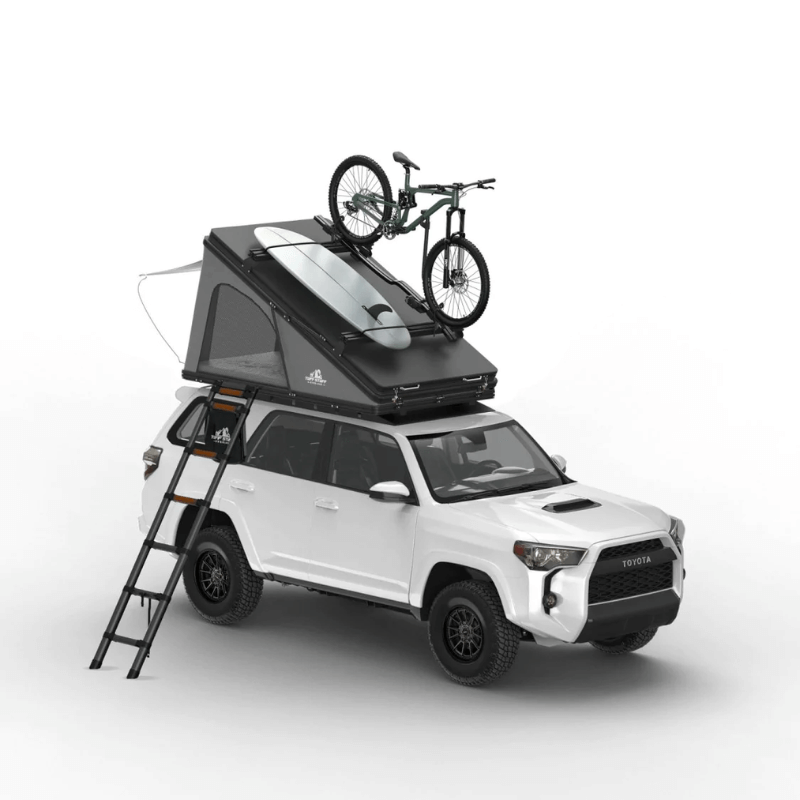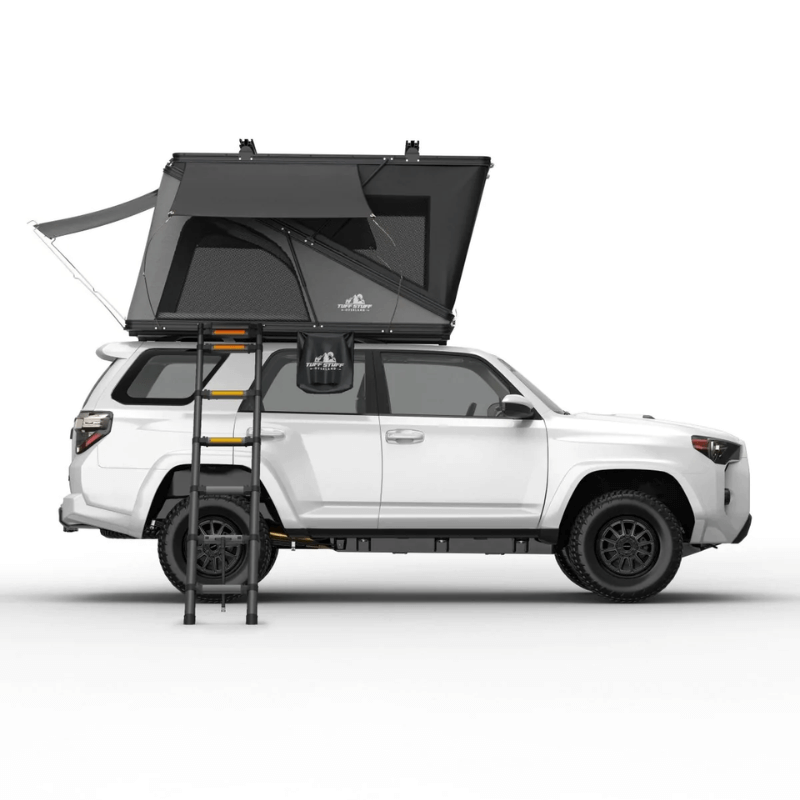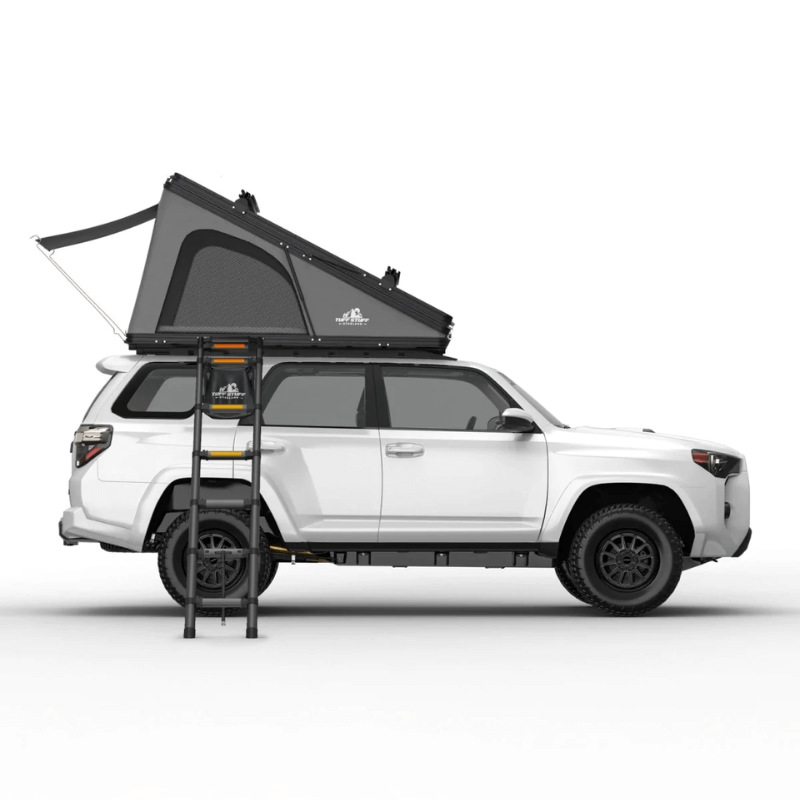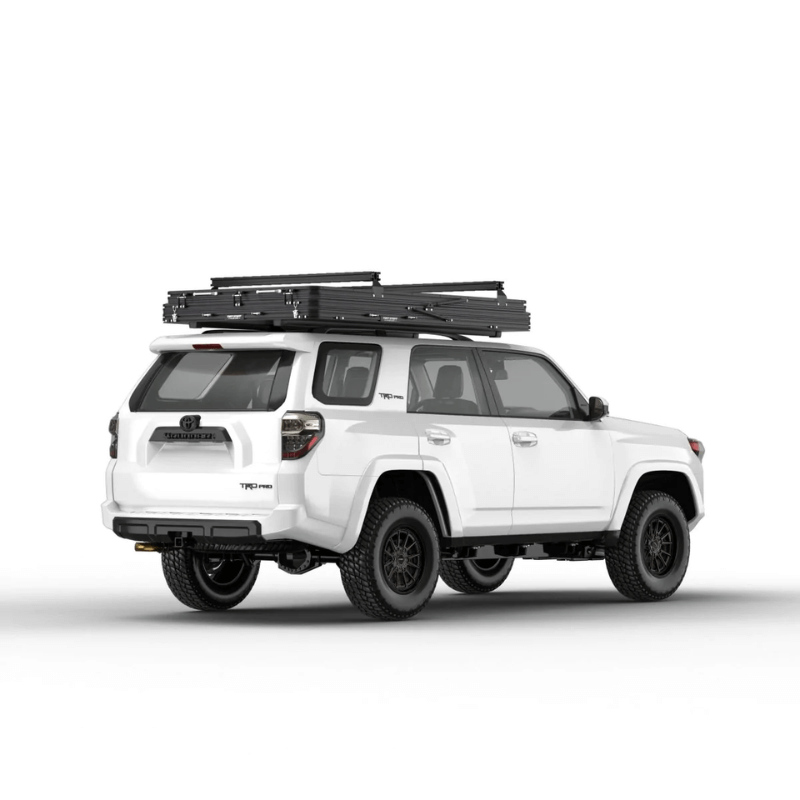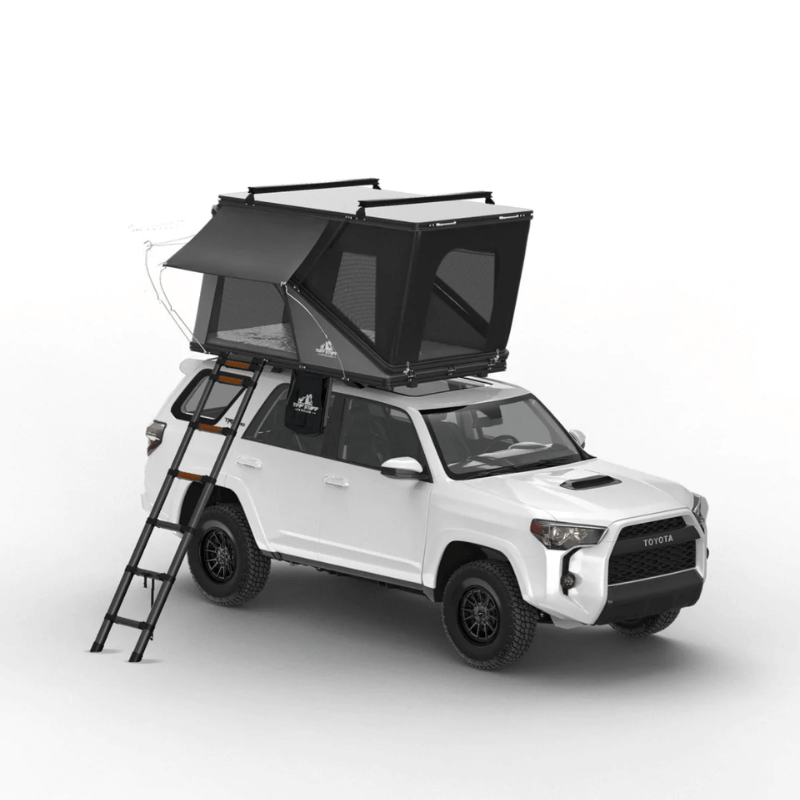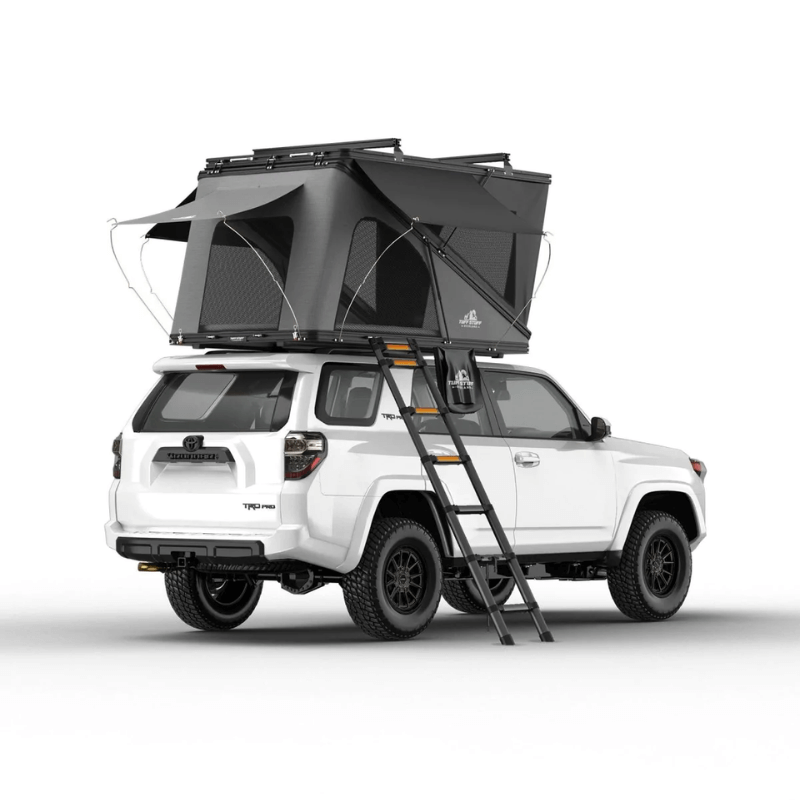 Tuff Stuff® Alpine Fiftyone Aluminum Shell Roof Top Tent
Regular price
$ 3,499.99
Sale price
$ 2,974.99
Save $ 525.00
/
---
Tuff Stuff® Alpine Fiftyone Aluminum Shell Roof Top Tent

Introducing our New Alpine FiftyOne Aluminum shell roof top tent with a dual action opening system.
The Tuff Stuff Alpine Roof Top Tent is our ultimate aluminum roof top tent that can withstand the elements for 4 season camping!

The Alpine features a dual-action opening roof. Open the rear section of the tent for a wedge or open the front section for a full pop-up and additional windows with screens. One person can deploy the Alpine in one minute for quick & easy setup and pack down!

The Alpine is constructed with durable antibacterial waterproof, high tear resistance, and stronger tensile than normal roof top tent fabric.
Fits your Toyota Tacoma
Includes:
✔ 4 Gas struts allow for dual action opening roof (wedge or pop-up option)
✔ Roof rack on top of tent (great for kayaks, bikes, and gear)
✔ Blackout coated fabric (full-screen room with 360-degree visibility to full dark room)
✔ T-Slot using standard M8 hardware surrounding exterior of tent, 4 T-Slot rails in total (mount awnings, shower tents, water supplies, etc. directly to tent)
✔ Under 8" slim profile when packed up and latched (excludes additional roof rack height)
✔ 3 Entryway options based on build (passenger side, driver side, rear)
✔ Window awnings (removable)
✔ Mounting hardware & brackets for installation (fits up to 3.25" vehicle cross bars)
✔ Mattress
✔ Telescoping ladder with angled steps (will not bite into your arches!)
✔ Interior LED Light Strip (requires power from a USB power pack, not included)

NOTE: Annex room not included, but available soon
SPECS
✔ Sleeping Capacity: 2 People
✔ Open dimensions L/W/H: 94x51x45 inches
✔ Closed dimensions L/W/H: 88x51x8 inches
✔ Mattress L/W/H: 1 qty, Memory Foam, 85x48x2 inches
✔ Weight: 248 Lbs
✔ Weight Capacity: 1200 Lbs
✔ 728 Lbs crossbar load capacity
✔ Shell: Aluminum
✔ Tent Materials:
- Poly/Cotton Rip-Stop 3200 GSM (high tear resistance and tensile strength)
- Waterproof level >3500MM
- Antibacterial and mold inhibiting fabric (EPA certified)
- Blackout coating on all tent materials (like being in a comfy cave w/out a light)
✔ Gas Struts: 4 qty, German engineered
✔ Floor: Heavy-duty 1 inch aluminum honeycomb
✔ Tent Mounting T-Channel Rails (bottom): 31.5" apart
✔ Sliders: 8 qty, 1.13x1.75x.25 inches
- Flat Brackets: 4 qty, 2.75-3.25 inches (adjustable) - Installation brackets fit crossbars up to 3.25 inches wide
- M8 Nuts & Bolts: 8 qty, 2.25x13 millimeters
- Rail Caps: 4 qty, 2x1x1.5 inches
✔ Roof Rack Bars: 2 qty, 50x2.5x1 inches
- Brackets: 4 qty, 5x4.5x4 inches
- M8 Nuts & Bolts: 25 qty, .38x13 millimeters
- Bar Caps: 4 qty, 1x1.3x2.5 inches
✔ Windows: 2 window openings w/ mesh screens & window rods
- Window Awnings: 2 qty, 69x44x33 inches, removable (zip-off), trapezoid side window rain awnings
- Window Awning Bag: 1 qty, 14x10x3 inches
- Window Rods: 6 qty, 35x.25 inches
- Window Rod Bag: 1 qty, 36x4x1 inches
✔ Security Latches: 4 qty (2 front and 2 rear)
✔ Ladder: Telescoping 103x18 inches tall w/angled steps (included)
✔ Zippers: YKK with custom para-cord pulls (reduces annoying road noise when driving)
✔ LED Light Strip: White diffused, dimmable light (Velcro on back of light to mount on either side of tent)
✔ Shoe Bag: 2 qty, 13x17x3 inches
✔ Annex Room: Not included but coming soon!
SPECIAL NOTES
INSTRUCTIONS
Mounting Tent
1. Mounting your tent requires a minimum of 2 people for lifting. This Alpine may take three! She's not dainty.
2. Position the tent on top of the vehicle's roof rack, bed rack, or trailer, and center it to your liking. If you have a hatchback make sure you have clearance to open the back.
3. Using the supplied hardware and mounting plates, slide the hardware into the channel so there are 2 bolts per corner (one in front and one behind the vehicle's crossbars)
4. Run the bolts through the holes of the mounting brackets, and thread nuts onto each bolt
5. Confirm you are happy with the position of the tent, vehicle balance, and appearance then tighten all nuts to the brackets until the tent cannot move

The Wedge
1. Locate the 2 latches at the rear of the tent
2. Pull each red latch upward releasing its tension, then unhook the latch from the hook
3. Push up on the handles and the tent will rise into a wedge shape on its own
4. Locate the elastic cinch strap and pull it upward into the T-slot for storage
5. Attach your ladder at the desired entry point
6. Unzip the screen and fabric covers, rolling them up and securing them with the storage clips
7. Deploy the included window awnings (see Window Awning Instructions) and Shoe Bags (see Shoe Bag Instructions)
8. Climb into your tent in its wedge form and it's ready to use

The Pop-Up
1. Once your Alpine is in its wedge form, locate the 2 latches at the front of the tent and unlatch them from the frame of the tent
2. Push up on the handles to transform the Alpine from a wedge to a full pop-up
3. Locate the elastic cinch strap and pull it downward into the T-Slot for storage
4. Unzip all the window covers to create a full screen room, rolling up each fabric cover and securing with the storage clips
5. Zip up all the fabric window covers to create a full dark room
It is seriously dark w/all of the windows and doors zipped up... that sun is not going to ruin your plans to sleep in w/nature a bit.