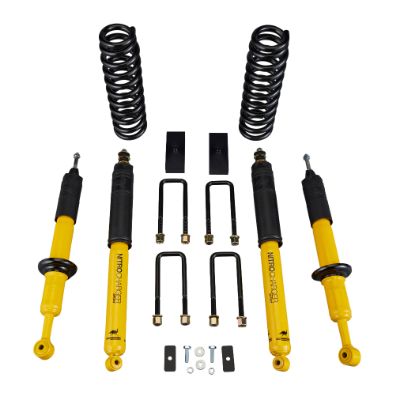 ARB Old Man Emu Essential 2" Lift Kit
Regular price
$ 1,042.00
/
---
DESCRIPTION
The essentials kit is ideal if you are looking to fit a larger tire and maintain stock load-carrying capacity*.
Kit (ESSENTIALS1) includes:
• Old Man Emu Coil Springs
• Old Man Emu Nitrocharger Sport Struts
• Rear Driveshaft Spacer
• Old Man Emu U-Bolt Washer & Nut
• Leaf Spring Spacer Kit 30MM
*The essentials kit is not designed to hold the weight of an aftermarket front bumper with a winch or improve load-carrying capacity over stock.
Designed for superior performance across all terrain, an Old Man Emu suspension upgrade by ARB will provide noticeable improvements to a vehicle's performance, including ride height and control characteristics. ARB and Old Man Emu's commitment to providing the most comprehensive range on the market has resulted in an extensive selection of quality products. This product is backed by a minimum 3-year or 37,000-mile (whichever comes first) warranty and aftersales service that is unmatched by any other suspension company.
PRODUCT SPECIFICATIONS
2" front and 1.25" rear lift
Toyota Tacoma 2005-2020 (6 lug models)
On and off-road drivability
Instantaneously adapts to the terrain
Improved low and high-speed control
Kit includes
Front Nitrocharger struts with coil springs
Rear Nitrocharger sport shocks
Rear 30mm lift blocks with U-bolts and hardware
ARB 4x4 Accessories | Part Number: ARBESSENTIALS1
Fitment: Direct Fit
California Residents: WARNING
MANUFACTURER
ARB has been manufacturing 4x4 parts for over 40 years. ARB Air Lockers will amplify the traction of your 4x4 on challenging trails. They give the off-road driver what she needs in traction, control, and performance. ARB believes in its products so it offers a five year, unlimited mile warranty across the air locker range. ARB 4x4 Accessories include the suspension system brand Old Man Emu, maker of premium off-road shock absorbers. Old Man Emu premium shocks are developed and tuned specifically for each vehicle application. They come complete with vehicle specific mounting kits for fuss-free installation. ARB parts are all developed, engineered, and fabricated in-house in Australia.
THIS PRODUCT FITS THE FOLLOWING

2020 Toyota Tacoma SR
2020 Toyota Tacoma TRD Sport
2020 Toyota Tacoma Limited
2020 Toyota Tacoma TRD Off-Road
2020 Toyota Tacoma SR5
2019 Toyota Tacoma TRD Sport
2019 Toyota Tacoma TRD Off-Road
2019 Toyota Tacoma SR5
2019 Toyota Tacoma SR
2019 Toyota Tacoma Limited
2018 Toyota Tacoma SR
2018 Toyota Tacoma SR5
2018 Toyota Tacoma Limited
2018 Toyota Tacoma TRD Sport
2018 Toyota Tacoma TRD Off-Road
2017 Toyota Tacoma Limited
2017 Toyota Tacoma SR
2017 Toyota Tacoma SR5
2017 Toyota Tacoma TRD Off-Road
2017 Toyota Tacoma TRD Sport
2016 Toyota Tacoma SR
2016 Toyota Tacoma SR5
2016 Toyota Tacoma TRD Sport
2016 Toyota Tacoma TRD Off-Road
2016 Toyota Tacoma Limited
2015 Toyota Tacoma Base
2015 Toyota Tacoma Pre Runner
2014 Toyota Tacoma Base
2014 Toyota Tacoma Pre Runner
2013 Toyota Tacoma Base
2013 Toyota Tacoma Pre Runner
2012 Toyota Tacoma Base
2012 Toyota Tacoma Pre Runner
2011 Toyota Tacoma Base
2011 Toyota Tacoma Pre Runner
2010 Toyota Tacoma Base
2010 Toyota Tacoma Pre Runner
2009 Toyota Tacoma Pre Runner
2009 Toyota Tacoma Base
2008 Toyota Tacoma Pre Runner
2008 Toyota Tacoma Base
2007 Toyota Tacoma Base
2007 Toyota Tacoma Pre Runner
2006 Toyota Tacoma Base
2006 Toyota Tacoma Pre Runner
2005 Toyota Tacoma Base
2005 Toyota Tacoma Pre Runner