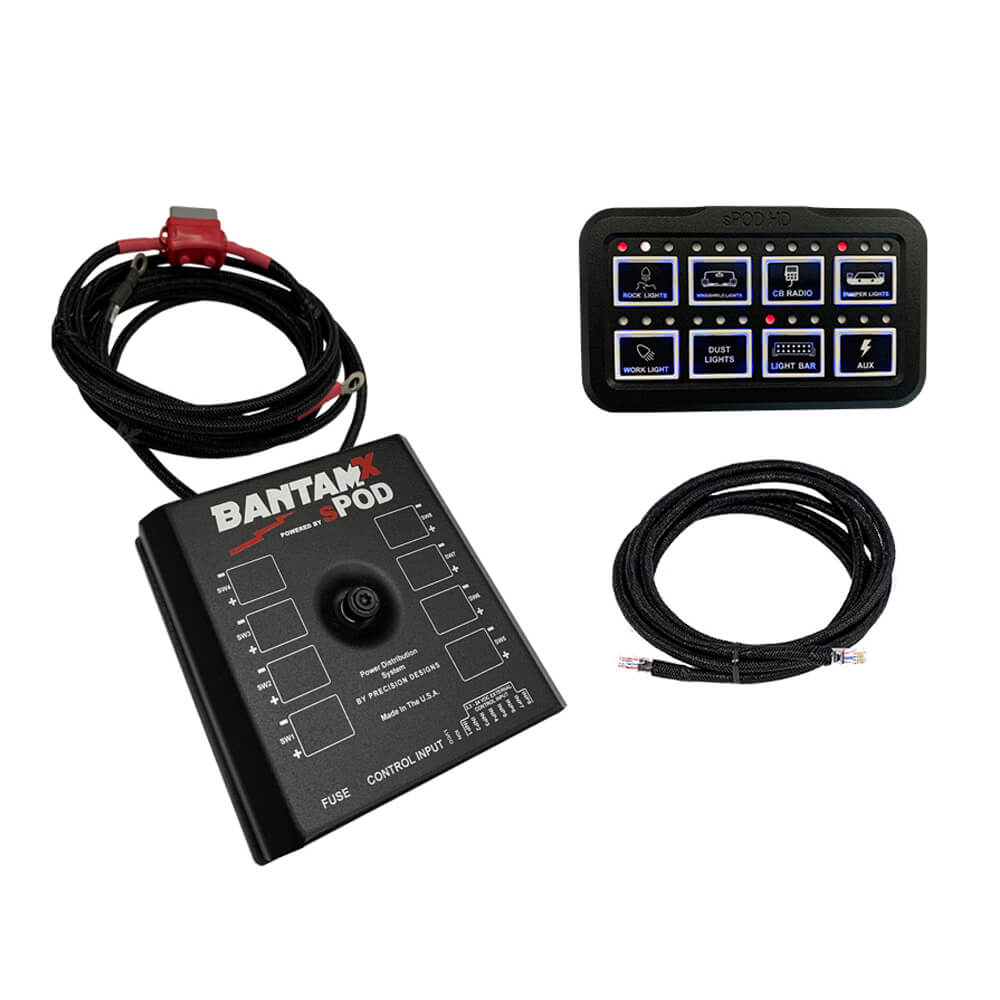 BantamX HD Universal With 36" Battery Cables
---
Current Estimated Lead Time Is 1-3 Weeks.
The BantamX will save hours of wiring & installation time! It is a small, 8-circuit (expandable) control system that provides a clean (one ethernet cable into the cab!) and safe way to power and control 12/24VDC accessories. Due to the small footprint of the BantamX, the placement options are endless! No cutting, fishing wires into the cab or tapping into the vehicle's electrical system. It's the perfect over-all solution for all your aftermarket electrical accessories with options unmatched by anyone.
Fully programmable, digital controlled system
8 circuits rated at 30 amps at 12.5 VDC per circuit
16-position terminal block (easily attach accessories)
2 controller ports (RJ45) for Ethernet cables
Integrated low voltage cutoff (LVCO) battery protection w/ optional override
One ATM mini-style fuse for LVCO protection & reset
Failsafe self-healing fault protection system (from 1.5 to 30amps)
Current-sensing MOSFETs controlled by a microprocessor (no fuses & relays)
50amp auto-resetting circuit breaker
Nylon braided battery cables are hi-strand crosslinked copper wire with a silicone jacket
Operates on 12VDC or 24VDC
8-position input terminal block for controlling outputs
Built-in Bluetooth capabilities for remote control
Protection against: overheating, over-current, shorts, reverse polarity & field collapse
Ignition control and safety lock-out for switches 1 and 2 (optional)
On-demand wireless software updates/upgrades
FEATURES AVAILABLE THROUGH sPOD MOBILE APP (free):
Each switch can be programmed for:
Dimming
Strobe
Flash
Momentary
Switch Linking
On Road and Off Road mode of operation
The following features are only available through the purchase of our Pro-Series mobile App:
Circuit timers
Switch lockout
Initial startup current for each circuit is raised to 65amps for 5 seconds
Program any circuit to be always on while still maintaining fault protection
Option to disable deep sleep mode
Selectable auto restart after circuit shuts down from over current/short
Programmable Current Limiting (in 2amp increments up to 30amps)
Selectable auto restart for current limiting shut down
Selectable "Latch" or "Momentary" actions for inputs
Programmable ignition control for all 8 circuits
Variable strobe function to create custom flash/strobe patterns
EXTERNAL CONTROLLER OPTIONS (not included with system and can only be used in conjunction with an sPOD controller)
Third party switches
Computers
Arduino
Raspberry Pi
Alpine Audio systems KAC-001 head unit controller
Sensors, thermostats, pressure switches, fan controllers & more
----
HD CONTROL PANEL
Encased in an aluminum billet machined housing, powder coated black, utilizing tactile switches encapsulated in silicone.
Silicone Buttons with positive touch feedback.
Panel is designed to withstand the harshest environments with all weather conditions considered.
Compact in size: 2-7/8W x 4-7/8L x 1/2 Thick (smaller than an iPhone).
Universal back with two pressed-in 1/4-20 studs x 5/8 inches long for flat mounting.
Standard universal articulating mount for a multitude of mounting options.
One standard RJ45 jack on back for communication cable between HD panel and the BantamX. (HD comes with a 10 foot CAT-6 Ethernet cable)
HD can be located up to 25 feet from the Source using standard CAT-6 Ethernet cable.
Built in Bluetooth LE* allows you to program and control our system with iPhones, iPad, iPad Mini using the free sPOD app.
Three levels of secured or open Bluetooth pairing/connectivity.
Each switch programmable for dimming, flash, momentary, strobe, and switch linking (program any switch to be a master to control other switches).
All 8 switches are backlit.
Adjustable timer to turn backlight off and a simple touch on any switch to reactivate.
Quickly turn backlight off by holding 2 designated buttons.
RGB backlight color and intensity can be changed to any color to match vehicle interior dash lighting.
Panel lock-out feature for safety and security.
Legends can be applied (comes standard with one sheet of 72 legends).
Each switch has 3 status lights: Red (left) = On, White (center) = Flash/Strobe active, Blue (right) = Active visual feedback when button is pushed.
Status lights can be dimmed.
Additional HD smart controller can be added for different locations.
HD can run in conjunction with our Touchscreen, Bluetooth and 8 Switch panel.

Bluetooth Requirements:
Access to iTunes or Google Play Store to download the sPOD app
Bluetooth 4.0 compatible
Compatible with Android devices running 8.0 Oreo (API 26) or later
Compatible with iOS 11 or newer, iPhone 7s or newer, iPad 2 or newer, iPad mini
Must have existing sPOD system
*The primary reason for the Bluetooth integrated into the HD panel is for programming purposes, and not for remote control due to the limited range. HD housings are precision machined billet aluminum which contribute to the distance limitations. Ranges may vary from 5 feet up to 15 feet depending on location of the HD, the surroundings, phone type, phone cover and many other variables.
Warranty:
1 Year Limited
Built In Bluetooth:
Yes
Legends Included:
Yes
Hardware Included:
Yes